Design 152
22'0" Cat-rig Yawl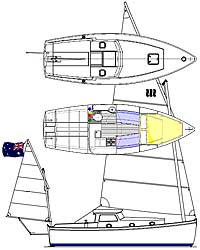 Preliminary Specification
LOA (exc. bumpkin)
6.700 m
22.00 ft
LWL
6.100 m
20.00 ft
Beam
2.240 m
7.35 ft
Draught
0.850 m
2.79 ft
Displacement on dwl
1.490 t
1.46 tons
Ballast
0.500 t
0.49 tons
Main area
21.788 sq m
234.52 sq ft
Mizzen area
3.882 sq m
41.78 sq ft
Headroom (galley & toilet)
1.820 m
72 ins
Headroom (saloon)
1.470 m
58 ins
Outboard (in well)
4.5-11.0 kw
6-15 hp
More specification info ...
This new design
started life as a modification of Design 123, but it soon became clear that a completely new design was what was required!
The design brief called for ease of construction, with as many parts as possible being CNC cut from ply, but without compromise in comfort, sailing qualities and lifestyle afloat.
Early decisions were an unstayed cat rig; a small deck saloon to give standing headroom in the toilet and galley; a good double berth; a large safe, comfortable cockpit; and relatively shallow draught.
The rig has gone through quite a few changes over the design period; and eventually come back to something very similar to the original, but with wishbone booms, a slightly larger mizzen and a small yankee headsail. Take a look at the new rig (opens a PDF document in a new window), which, with the mizzen forward of the rudder stocks, technically makes her a ketch now.
An early structural decision was to laminate the frames and floors from a sandwich of ply layers. Hull, deck and superstructure bevels could be achieved by varying the outside edge of each layer. As the design progressed, we incorporated many interior features into the frame layers and we will discuss some of these later in this page.
I need to pay tribute here to the owner/builder, for coming up with many practical suggestions and prodding me into implementing them. Design truly is a two-way process.
Now, let's get on and take a look at some of the features of the design and some photos of the emerging structures. Click the links on the left, at the beginning of each paragraph.
General Arrangement (GA). GA's are drawn at an early stage of the design development. As ideas and structures progress, they are modified.
A typical DXF file This is the frame at the forward end of the galley and toilet. We provide PDF files of the DXF files so that they can be checked for reading errors. More info ...
CNC cut parts. The ply sheets can be pre-coated with epoxy before being CNC cut.
Frames being assembled. Once we have all the ply parts that go to make the frames and floors, the next job is to bond them together to make the actual frames and floors.
Interior furniture parts. And also the coachroof coamings.
Home
|
8' chine sailing pram
|
8' classic sailing pram
|
10'3" gaff sailing dinghy
|
10'6" gaff sailing dinghy
|
15' half-deck yawl
15'6" 2-berth yawl
|
17'6" 3-berth yawl
|
18'6" 3-berth yawl
|
19' 2-berth sloop
|
20' 4-berth yawl
23' chine cutter
|
23' classic gaff cutter
|
26' fast sloop
|
30' fast cutter
|
67' cruising cutter
22' cat yawl
|
Extended No. 119
|
Commissioning a New Design
|
Why wood-epoxy?
|
Wood-epoxy #1
|
Wood-epoxy #2
|
Wood-epoxy #3
|
Aluminium Construction
|
Steel Construction
Woodbridge Poster
|
Rockland USA
|
Woodbridge UK
|
Whisstocks 1926-1990
Plan formats
|
Support
|
How to order
|
Study plans
|
Build plans
|
Designer
|
Kits
|
Laminating
|
Company
|
Privacy
|
Contact
Site designed, programmed and hosted by Debenriver Ltd