The George Blog – Category: Recipes (10 Most Recent)
Soy Cheese
It's hard at times being a vegan vegetarian. For me the toughest is cheese. I like hard, aged cheese - specially sheep's milk, or very old Gouda, or similar. And I like it with a glass of wine and an oatcake in the evening. So sometimes I do break down and eat cheese!!

Vegan/vegetarian cheeses are mostly pretty horrible – well to my taste anyway. And they always seem to be full of chemicals and other things that I don't know the purpose of.

Recently I came across a recipe for home-made cheese that is actually (again to my taste) pretty good. The basis of this recipe is from The Nutritional Yeast Cookbook by Jo Stepaniak. Nutritional Yeast seems to be a peculiarly American foodstuff – though I have discovered that it is now available in the UK: Marigold Engevita Nutritional Yeast Flakes.

Anyway here is (the slightly adapted) recipe:

125g (4.5 ozs) Firm Tofu.
3 Tbsp Nutritional Yeast
2 - 3 Tbsp Tahini (sesame seed butter)
2 Tbsp lemon juice (about the juice of one lemon)
1.5 Tbsp Sweet White Miso.
1/2 tsp salt

3 Tbsp Agar Flakes or 3 tsp Agar powder
175 ml (3/4 cup) water

Mash the Tofu thoroughly in a bowl. I use a fork, which seems to work well. Add the other ingredients except the Agar and Water. Mash everything together until you have a reasonably smooth paste. It doesn't have to be "blended" smooth.

Heat the water and the agar in a tiny pan for a few minutes until the powder or the flakes are dissolved and the mixture starts to thicken. Add to the rest of the ingredients and stir in and mix very thoroughly.

Scrape the cheese out of the bowl into a plastic or ceramic container, press down and smooth over. I use a stainless steel spatular for this job. Pop into the freezer for a couple of hours and then remove to the fridge.

The cheese is reasonably firm and will cut into thickish slices OK. It will also melt, brown and go bubbly under the grill (broiler). And it can be used in cooking just fine. Not totally like real cheese but pretty good.

And the taste is very good!! The texture is not like hard cheese - A bit softer than, say, fresh cheddar – but it is perfectly tolerable.

And it is vegan. And you pretty much know what is in it!

For increased quantities, I guess it could be made in a food processor or blender. This small quantity gets lost in a blender and there is too much wastage. The result would however be a smoother cheese (is that good or bad I wonder?).

Enjoy!


---
Manchet or Payndemayn
Manchet, or Payndemayn is a very early type of enriched fine bread; Early not in human existence of course, but early in the written record in English – certainly Chaucer wrote about it. I make manchet quite often because it has a nice soft crust and Cathy, my wife, likes soft crusts ..... So here is a modern, vegan, manchet recipe. The flour I usually use is organic and is grown and stoneground in Maine.

250g (9 ozs) organic white flour
300g (10.5 ozs) stoneground organic wholewheat flour
2 tsp (max) dried yeast (do not be tempted to use too much)
600ml (20 fl oz, 2.5 cups) Rice milk (unenriched)
30g (about 1 oz) vegan margarine
9g (about 1/3 oz) salt

To activate the dried yeast, have about 75ml (1/3 cup) warm water (warm means it feel neutral – neither hot nor cold – when you dip your finger in) in a 500ml (2 cups) glass measure. Add a scant Tsp sugar and sprinkle the yeast on top. Whisk gently and leave in a warm place; cover with polythene. In about 15-20 minutes it should froth and rise, towards the top of the measure.

Meanwhile, mix the two flours together and warm the flour gently. Add the salt to the rice milk and warm gently to blood heat (the finger test again).

Once the yeast has activated, make a pool in the middle of the flour and add the yeast. Mix in. Add the milk and salt and mix thoroughly into the flour. You have to start to use your hands here. Coat them in flour so the mix sticks less to them. Now work in the margarine. The dough should be light but just come clean off your hands and the bowl. Knead for a minute or so until everything is well mixed and the dough is springy.

Leave in a warm place in a polythene covered bowl to rise. It will probably take about 1 hour to double in volume. In a cool place it will take quite a bit longer.

Knock the dough down and kneed. Now you can bake one tin loaf, four manchet rolls or a floor loaf. If you want a tin loaf, form the dough into a sausage and press into a greased, floured loaf tin (about 2 L – 8.5 cup capacity). If you want rolls, divide into four and form into buns. If you want a floor loaf, form into a single large bun. For the buns (single or four) place on a greased floured baking sheet.

Whatever – cover with polythene and leave to prove (rise again – recover volume) for probably 30-45 minutes. Once the dough has recovered, for the tin loaf, make three quick deep diagonal cuts. For the buns make a single deep cut. For the floor loaf make two or three deep cuts acrosswise, to divide it into triangle segments. Sprinkle the cuts with a little cold water.

As soon as the cuts start to open, put the loaf into the oven and turn the heat to 220ºC (425ºF - Gas Mark 7). Cook for about 30 minutes, until the top is golden and the bottom of the loaf sounds hollow when tapped. With a tin loaf, leave it to cool for 15 minutes or more before removing from the tin. If it seems a little uncooked, you can always return it to a hot oven for a few minutes to finish off.

This bread keeps well, makes good toast – and is great just as bread. The buns (large or small) are best broken rather than cut. The loaf cuts well with a sharp knife. Don't cut the loaf hot, however much you are tempted!

Two loaves last us a week for toast in the morning and occasionally at night too.



---
Mushroom and Tofu Soup
This is one of our favourites for a light lunch or supper. This recipe serves two. It is easily adjusted to serve three or four.

Ingredients:

450g (1 lb) Tofu.
100g (4 ozs) Shiitake mushrooms (more if you wish)
900 ml (30 fl ozs – 3.8 cups) Dashi stock
2 Tbsp soy sauce
Olive oil
200 ml (about 1 cup) Saki, or dry white wine
Toasted sesame seed oil
1 Spring onion (scallion)

To make dashi stock:

2 L (8.5 cups) water
100mm (4") length of Kombu (or in the Atlantic, Alari)
3 or 4 Shiitake mushooms, or 8 - 10 Shiitake stalks

Put the water and the Kombu in a pan and bring to the boil.
Simmer for 10 minutes.
Add the mushrooms or mushroom stalks.
Simmer for a further 10 minutes.

Strain into glass jars (Ball jars, Kilner jars or similar) and store in the refrigerator.

Use for miso soup, soups and stews of all sorts.

OK – now to this particular soup:

Wrap the tofu in kitchen paper and press gently with a wooden board to expel some of the water. Unwrap and cut into 20mm (3/4") cubes - you will probably get 40 or so cubes.

Cut the stalks off the mushrooms (reserve for Dashi stock). Cut the mushrooms into about 15mm (5/8") strips. That is halving small ones, cutting medium ones into three and big ones into four. Put in a strainer and rinse under the cold tap and drain.

Slice the spring onions into very thin (2mm – less than 1/8") slices; the white and green parts.

Heat about 1 Tbsp of olive oil in a good heavy cast iron frying pan (skillet). Add the mushrooms and move about so they don't stick to the bottom of the pan. Turn the heat to medium and allow the mushrooms to sauté very gently. From time to time add some Sake, so that they keep cooking without burning. The objective is to get them lightly browned and just ever so slightly crispy. This will probably take 30 minutes or so. Don't have the heat too high. When they are done, remove them to a bowl lined with kitchen paper.

Heat about 100ml (1/2 cup) of olive oil in a deep pan – a wok is perfect for this because it keeps the oil in a deep pool. Add the tofu and sauté until it is light golden brown on the outside. Remove the tofu with a slotted spatular into a bowl lined with kitchen paper. Scoop the oil out of the wok (to use again). Once the tofu has cooled a bit, cut each piece in half.

Add the dashi stock to the pan or the wok and bring to the boil. Add the tofu pieces and the mushrooms. Once it returns to the boil, add the soy sauce and simmer for about 1 minute.

Serve the soup. Garnish with a few drops of sesame oil and the spring onion.

Delicious! Enjoy!





---
Early Summer Stew
A perfect main meal for early summer, when young vegetables are available at the farm stands (farm shops). Miso, Tofu and Seaweed give this a somewhat Japanese flavour.

You can really use what vegetables you fancy – but here is my selection:

3 young onions usually about 40mm (11/2") diameter.
6 young turnips, usually about 30 - 40mm (11/2") in diameter.
2 - 4 young carrots, depending on size. Not too small. (say 125mm - 5" long).
2 - 3 young leeks (or 1 large leek).
200g - 250g (about 1/2 lb) green beans (in Europe these can be french beans or young runner beans).
A small cauliflower (or about 6-8 florets from a larger one).
250g - 350g peas in the pod (1/2 to 3/4 lb).
2 - 3 small courgettes (zucchini) – about 75mm - 100mm (3" - 4") long
450g (1 lb) tofu.
2 tbsp miso (sweet white, brown rice, or whatever you fancy).
2 tbsp mirin.
4 tbsp rice wine or dry white wine.
A piece of Wakami (or bordering the Atlantic - use Alaria) about 125mm (5") long.
3 - 5 bay leaves.
Olive oil.

I know it looks a lot, but actually it's not too bad to cook and it provides a meal for two people for two days.

Method:

I cook this in an electric wok - but a good heavy-bottomed pan on the stove top is fine.

Drain and rinse the tofu. If possible, wrap in paper kitchen towel and press between two wooden boards for 30 minutes (pile a few heavy books on top). If you can't do this (i.e. no time) then wrap the tofu in paper towel and press gently to remove as much moisture as possible.

Cut the tofu into 20 - 25mm (3/4" - 1") cubes – probably about 24 pieces.

Heat the wok and add about 150ml - 200ml (1/2 - 3/4 cup) olive oil. When the oil is hot, gently add the tofu. Leave on high heat, turning the tofu from time to time, until it is light golden brown. Remove the tofu with a slotted spoon and drain on a paper towel. Reserve until later. Turn the wok off and scoop out most of the oil (you can use it again) – leave about 1 tbsp in the wok.

Slice the onion fairly fine (10mm – 3/8"). You can use the green parts – just discarding any that are yellowy or tired looking. Wash the sliced onions as the top parts can be gritty.

Trim the roots off the leeks and strip off any green that is yellowy or tired looking. Make one lengthways cut up the leeks and then slice (12mm – 1/2"). Wash the cut leeks well as they tend to be gritty.

Cut the greens off the turnips (make turnip top soup with these - see recipe). Peel the turnips and dice into 12mm (1/2") cubes.

Peel the carrots and slice (about 10mm - 3/8"). If the carrots are pretty fat, make a lengthways cut first.

Top and tail the beans and cut into about 50mm (2") lengths. Wash.

Cut the cauliflower into florets. You can also use most of the stalk - cut into 25mm (1") lengths and then slice lengthways into 10mm (3/8") sticks.

Slice the courgettes about 6mm (1/4") slices.

Slice the seaweed into short pieces (about 6mm - 1/4").

Shell the peas.

Reheat the wok and add the onion and leek. Cook gently on medium heat for about 10 -15 minutes until they are getting soft. You can put the lid on for the last half of the time.

Add the turnip and carrot and mix in. Continue to cook for about 5 minutes, adding the mirin and wine part way through. Leave the lid on.

Add the seaweed and green beans; continue to cook, turning the ingredients over gently to mix.

Add the cauliflower and courgette, the cooked tofu and the bay leaves. Add enough water to cover about 2/3rds of the vegetables. Mix gently and bring to the boil. Simmer for about 20 - 25 minutes until most of the liquid has gone – but not dry – add a little more water (or wine) if necessary during the cooking. The vegetables want to be cooked but still hold their shape and be just nicely al dente. I usually cook it with the lid on for about half of the time.

Put the shelled peas in a small pan with a little water, bring to the boil and cook for 4 or 5 minutes until the peas are just cooked. Drain and add to the stew with the miso (below).

Mix a little of the stock with the miso (or heat a little extra water and mix) and add to the stew. Heat gently for a couple of minutes and serve. You should end up with a little "gravy" in the stew.

To persuade ourselves that this is a Japanese dish, we eat it with chopsticks and a spoon to get the last bits and the miso gravy.

It is very good the next day and microwaves well. I like a simple soft organic red wine with this dish, but pretty much anything is OK.



---
Turnip Top Soup
With the new seasons crops coming into the farmstands (farm shops for my British readers) there are new young turnips available. They are just delightful steamed and mashed with some pepper and vegan margarine. But the green tops also make a surprising and delicious soup. I also had some onion tops left over from immature onions (which I sautéed with young leeks, and served with steamed baby potatoes, carrots, young spinach and swiss chard - just stupendous).

So:

About 250g (8 ozs) turnip tops. I cut off the bottom 1/3 of the stalk bits. Chopped pretty fine.
A few onion tops if available - a bunch of spring onions (scallions) would be OK. Chop fine.
1 large onion, chopped fine.
2 medium potatoes, diced into about 10mm (3/8") cubes.
40g (about 1-1/2 ozs) brown rice.
1-1/2 tsp curry powder.
1.5 Litres (6 cups) vegetable stock.
250 mL white wine.
2 - 3 Tbsp olive oil.
You can reserve a few turnip leaves chopped very fine for garnish if you wish,

Method:

Heat the olive oil. (I cooked this in our electric wok, which did an excellent job)
Sauté the onion and onion tops gently until the onions are soft and golden (about 10 minutes).
Add the curry powder and continue to sauté for about 1 minute, tossing/stirring all the time.
Add the wine gradually and cook until it is pretty much absorbed.
Add the stock and bring to the boil.
Add the potatoes and rice and simmer for 10-15 minutes.
Add the turnip tops and cook for a further 15-20 minutes.
Garnish (if wished) and serve. Crusty brown bread and soft red wine.

The soup has a lovely surprisingly spicy flavour - it is really delicious!

Peace.


---
Garlic Greens!
Another damn soup .....

The problem with Spring here in Maine is that there are so many unusual vegetables around that I (well Cathy even more than I) always feel impelled to buy them and then find something to do with them.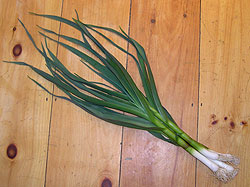 Garlic greens are the perfect example (dandelion greens and beet tops are coming - be warned). This immature stage of garlic is mild and sweet. Chefs worldwide are awaiting it. And we have it in our local farmstand right now. More than that, I have it in my kitchen right now.

Now the recipe that follows is neither simple nor cheap. But it is delicious. It is Garlic Green, Asparagus and Leek Soup. And serendipiously all the main ingredients are available now!

So here we go; it makes quite a bit of soup and it takes a while to make it:

Ingredients:

4 garlic greens. As you can see from the photo there is quite a lot of green.
2 bunches asparagus.
3 leeks.
1500mL (6 cups) vegetable stock.
250mL (1 cup) dry white wine.
Handful fresh thyme - say about 2 Tbsp when chopped.
3 Tbsp olive oil.
A few chopped chives or pea sprouts for garnish.

Preparation:

Garlic Greens: Wash the garlic greens. Discard any yellowed bits of the leaves. Cut off the root (just the last 3mm - 1/8" with the wriggly bits attached). Chop into 12mm (1/2") lengths and wash thoroughly – it can be gritty.

Leeks: Wash the leeks. Cut off the roots. Slice lengthwise. Chop into 6mm (1/4") slices. Use everything, except the very coarse top parts of the outer leaves or any bits that have gone yellowey. Wash very thoroughly, again because they can – almost certainly will be – gritty.

Asparagus: Trim off the bottom 12mm (1/2"). Cut off the top tips – say the last 45mm (1-3/4") and reserve for later. Peel the bottom 50mm (2") of each stalk (tedious ... extremely tedious ...). Cut into 12mm (1/2") lengths. Wash.

Ok – here we go ...

Method:

Heat the oil in a heavy bottomed pan.
Sauté the garlic for about 7 minutes.
Add the leeks and continue cooking until transparent – about 15 minutes, with the lid on for the final 7 minutes or so. Don't let them brown. Add a soupçon or two of wine if necessary.
Add the wine and reduce (technical term for cook reasonably gently until almost all the liquid is cooked away). Stir frequently.
Add the chopped asparagus, herbs and stock.
Simmer until everything, especially the asparagus, is tender – this can take quite a while, perhaps 50 minutes. Just let it simmer very gently – don't be impatient.
Whizz up in a liquidizer (blender) until it is really very smooth. You will most likely have to do this in batches.
To make the soup really smooth (and better consistency, without fiberish bits) push through a sieve. I use an ordinary stainless steel sieve and a wooden spoon, which is time consuming and makes your arms ache – a proper "Mouli" would be preferable.
Return the puréed soup to the pan; add the asparagus tips. Cook gently until the asparagus tips are tender (usually about 10 minutes).

Pour into bowls, garnish and serve. If you are still awake that is.

Remember never to be tempted to buy garlic greens again. Not ever never.


---
Fennel Risotto
This is pretty much a no-hassle recipe.

Ingredients:

1 fennel bulb (if it is very small - then use two).
1 fairly large onion, chopped fine.
3 or 4 nice fat cloves garlic, crushed or chopped very fine.
1 red bell pepper diced.
A few small brown mushrooms (say 6 or 7 about 30mm – 1-1/4" across).
325g (1 1-1/2 cups) Arborio rice
900mL (3-1/2 cups) vegtable stock.
250mL (1 cup) dry white wine.

Herbs (ideally) – fresh – all chopped fine:
3 Tbsp mint
2 Tbsp rosemmary
3 Tbsp parsely

If you don't have the fresh herbs, use dried - dried Italian seasoning would do just fine. if you have a mix of fresh and dried, add the dried in the cooking stage and the fresh in the sitting stage.

Zest (fine grated skin) of a lemon. I really try to use organic lemons when the zest is called for because at least they haven't been sprayed to hell and back.

Juice of 1/2 lemon or
Turmeric root – about 50mm (2") long, fat finger size, peeled and grated fine.

Don't use both lemon and turmeric because it gets too "lemony".

1/2 tsp ground coriander seed.
4 Tbsp olive oil.

Method:

Cook this in a large heavy bottomed pan - or I often use our electric wok, which does a great job.

Trim the very ends off the fennel stalks.
Pull off the fennel fronds chop fine and reserve to use with the herbs.
Chop the fennel up fairly fine. Specially the stalks – slice the bigger ones lengthwise and then slice at 3mm (1/8"). Don't pay the slightest attention to the people who say only to use the inner parts of the fennel bulb - it is all good!

Heat the oil and sauté the fennel, onion and garlic on medium heat for about 10 minutes – it should be getting soft and transparent, not brown.

Add the red bell pepper and mushrooms – continue to sauté on medium heat with the pan (wok) covered for another 10-15 minutes. Add a bit of white wine (extra to the recipe amount – can't have too much wine in cooking!) – if necessary, so that everything doesn't stick or start to burn.

Add half the fresh herbs and fennel fronds and lemon zest. If you are using dried herbs, add these now, together with half the lemon zest. Save the chopped fennel fronds until the sitting stage.

Add the coriander.

Add the rice. Stir about and turn everything over and let cook for about 2 minutes.

Add the wine and stock. Add the turmeric. Bring to the boil. Simmer uncovered for about 25 minutes until pretty much all the liquid is absorbed and the rice is cooked but al dente (that is still firm with a slight 'bite' to it).

Add the rest of the herbs/fennel fronds and lemon zest, and the lemon juice (not if you have already used turmeric root). Turn off the heat. Cover and allow to sit for about 10 minutes.

Serves 4 at least, with some left over for the next day. Doesn't really need accompanying vegtables but steamed brussel sprouts are pretty good.

If you don't fancy the yellow colour of turmeric, or you can't buy fresh turmeric root, then simply leave it out and use the juice of 1/2 lemon instead.

Goes well with a soft simple red or a fresh white. Organic wines are usually free of added sulfites and are also often vegan (no crushed up beetles) – so we generally try to find them for everyday use. They are usually palatable, if not always a great wine.

Serve and Enjoy!


---
Radish Tops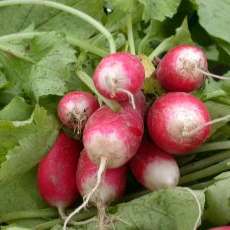 New season's radishes are now coming into the farmstands (farm shops for my British readers) here in Maine. Anciently an essential, now rather neglected, I hate to see radishes sidelined into a salad garnish. I love their spicy taste and firm texture, with a glass of pinot and a coarse oatmeal biscuit.

But don't neglect the green tops either. Buy your radishes from somewhere that you know hasn't sprayed the shit out of them with pesticides and use the greens to make a delicious and unusual soup.

You need a really nice big bunch of leafy greens (say about 175g - 6oz) – they need to be fresh and sprightly. The ones I used had really small early radishes on them - they were in fact mostly green tops! Supermarket radishes are often all radish root and not much green, and what there is can be a bit wilted, so not much use for this purpose.

Cut the tops off the radishes. Save a few of the radishes for garnish in the soup. While the soup cooks, enjoy the remainder, not forgetting the glass of pinot and a few oatmeal biscuits.

You also need:

1 small onion, chopped fine.
4 cloves garlic, sliced fine.
1 medium potato, diced.
2 Tbsp olive oil
Herbs (fresh – any you happen to have; dried – Italian seasoning is good). Use a handful of fresh (before chopping), say 1 tsp of dried.
400mL (about 1-2/3 cups) vegetable stock.
250mL (about 1 cup) dry white wine

Method:

Wash the radish greens well to get rid of any sand and grit. Chop fairly coarsely.
Heat the oil in a heavy-bottomed pan.
Add the garlic; sauté for about 1 minute.
Add the onion; sauté for about 5-10 minutes (put the lid on for the last 5 minutes).
Add the potato and stir until it is coated in the oil.
Add the radish greens and cook on a lowish heat until they start to go limp (2 or 3 minutes, lid on - stir from time to time).
Add the wine and cook on a higher heat until it is mostly evaporated.
Add the vegetable stock and the herbs.
Bring to the boil and simmer until everything is tender - about 40 minutes.
Whizz up in a liquidizer (blender) until it is really smooth.
Return to the pan and reheat.

Serving (serves two):

Slice the radish garnish really fine (1.5mm - 1/16").
Serve the soup adding a few radish slices to each bowl. You could add a few chopped chives as garnish as well if you like. You could decorate with a whirl of soy silk or similar if you wish.
Serve with crusty wholemeal bread and a glass of steely white wine or a mild soft red.

Retire to bed and watch a movie. Peace and pleasure.

---
It's Fiddlehead Time!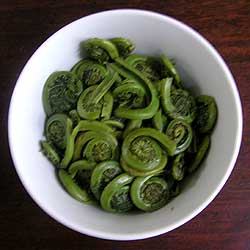 April and May is the time for fiddleheads in Maine.

Fiddleheads are the curly tops of the Ostrich Fern. They start poking their heads through the ground by the banks of rivers, streams, and brooks in April and May. They are harvested when the tender little rolls of ostrich fern are 25mm – 50mm (an inch or two) above the ground.

My favorite way to cook them (you shouldn't eat them raw) is to trim the stalks, wash them thoroughly and then steam them for about 15 minutes. Eat them with vegan margarine and cider vinegar, and, say steamed new potatoes. They are absolutely delicious and nutritious. An authentic taste of Maine! Nice with a mild red wine or a steely white.

Steamed fiddleheads are slightly, but not unpleasantly, bitter. Boiling them reduces this but must take away too much of the nutritional value.

It would seem that 100g of Fiddleheads give you 5g of fibre. And, based on a 2000 calories per day diet they give you (as % of daily need): Vitamin A 72%, Vitamin C 44%, Calcium 3%, Iron 7%. They are also a good source of Riboflavin, Niacin, Magnesium, Phosphorus, Potassium, Copper, Zinc and Manganese. Low on sodium and low on fat and only 34 calories (before the margarine that is). So good news all round!

There is the possibility that uncooked or under-cooked fiddleheads may contain a toxin that will make you unwell although this has never been established – so do cook them properly (10 minutes for boiling, 15 minutes for steaming) to be on the safe side. I've eaten loads of them and never been unwell.

---
Fennel Soup
I seem to be doing recipes lately; perhaps I should start a recipe section.

We have these very nice white French soup bowls with handles – we bought them for French Onion Soup because they can go under the grill (broiler). Trouble is they have hollow handles which get part-full of water through a little "drainage" hole. As soon as you fill them with a hot soup this residual water starts to dribble out – and seems to have an almost endless supply somehow – which is bloody annoying! I have been meaning to block the holes up with a blob of Epoxy for at least two years now. Of course the heat under the grill would be pretty certain to make the epoxy run out so they would then be useless for their original purpose ...

Anyway on to the recipe, which explores the health giving properties of Turmeric:

Makes enough for two servings.

2 medium onions, chopped fine.
1 large fennel, chopped fine. Use all of it including the leafy bits, but excluding the very tips of the stalky bits.
4 stalks of celery, split lengthways and chopped very fine.
A piece of Turmeric root, peeled and grated fine (to give about 1 Tbsp)
200mL (3/4 cup) dry white wine.
1 L (4 cups) vegetable stock.
2 Tbsp olive oil.

Method:

Heat the oil in a decent pan, preferably with a heavy bottom.
Add the onion and celery and sauté on medium heat until soft – about 10 minutes – don't let it brown.
Add the fennel, cover and continue to sauté on medium/low heat until reasonably soft – say 15 minutes.
Stir to prevent sticking/browning. Add a little liquid if necessary (water or wine).
Add the wine and turn the heat to medium/high.
Cook until the wine is reduced to almost no liquid.
Add the stock and the turmeric.
Bring to the boil and simmer until the fennel is really soft - maybe 30 to 45 minutes – can be longer.
Whizz up in a liquidizer (blender) until nice and smooth.
Serve hot. Delicious! Surprisingly lemony tasting (the Turmeric I guess).

If you can't get Turmeric root - use ground turmeric (about 1 tsp). Flavor is not so good however and I don't know if the health-giving properties are as good either. Turmeric is associated with digestive health and there are hints of far greater benefits.

You could experiment with more grated turmeric root (2 Tbsp is probably the limit for these quantities).

And the French bowls are still leaking water out of the handles ...



---
Home
|
8' chine sailing pram
|
8' classic sailing pram
|
10'3" gaff sailing dinghy
|
10'6" gaff sailing dinghy
|
15' half-deck yawl
15'6" 2-berth yawl
|
17'6" 3-berth yawl
|
18'6" 3-berth yawl
|
19' 2-berth sloop
|
20' 4-berth yawl
23' chine cutter
|
23' classic gaff cutter
|
26' fast sloop
|
30' fast cutter
|
67' cruising cutter
22' cat yawl
|
Extended No. 119
|
Commissioning a New Design
|
Why wood-epoxy?
|
Wood-epoxy #1
|
Wood-epoxy #2
|
Wood-epoxy #3
|
Aluminium Construction
|
Steel Construction
Woodbridge Poster
|
Rockland USA
|
Woodbridge UK
|
Whisstocks 1926-1990
Plan formats
|
Support
|
How to order
|
Study plans
|
Build plans
|
Designer
|
Kits
|
Laminating
|
Company
|
Privacy
|
Contact
Site designed, programmed and hosted by Debenriver Ltd