The George Blog – Category: News (10 Most Recent)
Server Problems
The company that hosts whisstock.com had a serious mysql server problem and data became corrupted – which basically means that we have lost all database entries from 9th July to 29th September 2016.

So any member who registered between these dates is no longer registered. And members who purchased designs in that period will no longer be able to access them.

Ironically, automatic backups are created every 90 days and the next backup was due on the 1st October – so this problem couldn't really have come at a worse moment in respect of lost data.

So if you were a member prior to 9th July 2016, but purchased plans in the period 9th July to 29th September, and can on longer access them, please let me know and I will add them back to your Design Portfolio.

If you became a member between 9th July and 29th September and purchased plans, pleas let me know and i will re-instate your membership and access to the plans you bought. You will need to give me your UserName; I will issue a temporary password.

And if you became a member, but did not purchase plans, also let me know and I will re-instate your membership. You will need to give me your UserName; I will issue a temporary password.

I sincerely apologize for the inconvenience this has caused. We will be taking steps to make a local backup of our database more frequently than the 90 days which the server does. We had been under the impression that the server backup was a continuous process, rather like Apple's Time Capsule – we were wrong ...

George
---
Changes to Registering on the Site
I fiercely support web and internet freedom – but that doesn't make it any the less annoying when targeted by ill-intentioned persons, who, it seems to me, contribute nothing of value and in fact, just pilfer and waste everyone's time to no good purpose.

I have always tried to make our website as easy and user-friendly as possible. To this end, we only collect the barest minimum of data when you register (to buy a design, to post on the forum, to see the free designs and so on), and the process has been very simple.

Unfortunately, this has finally attracted the "spam bots" – automated programs designed to create fake accounts for the purposes of then sending spam. While this doesn't in any way reveal members email addresses or any other details, it does clutter up our web server and it does lead to the likelihood of the spam bots sending spam emails that look as if they come from a mail address at whisstock.com.

So, reluctantly, I have made a couple of changes to the registration process:

Firstly, on the registration form, anyone new wishing to register will need to confirm that they are a real person. And secondly, instead of registering directly, they will now receive a confirmation email with an activation link to complete the registration – clicking the link completes the registration. Neither of these changes affect existing members.
---
Design 055 Ballast Feedback
I was delighted to get the following email from the owner of a Design 055 – Le Rat d'Eau – sailing off the coast of Brittany, France:

"Have sailed quite a lot recently on my own and with others.  With my son-in-law and grandson we sailed from Fouras to the N. tip of Ile d'Oléron and back - on the way back on a broad reach, not reefed, the wind got up to force 4+ with 4ft. waves. My son-in-law, who is a very experienced sailor, was very impressed with the way she sailed.

Whereas previously (before ballast) she would heel quite dramatically to gusts, losing wind and power, she now stands up much better and 'drives on'. GPS showing up to 9 knots.

Have had similar experiences myself when single handed - on a broad reach in a force 3 yesterday - very comfortable at 7 Knots (with tide admittedly)."

Fouras to the North tip of Ile d'Oléron is about 10 -12 miles across Pertuis d'Antioche (The Straits of Antioch) in fairly open Atlantic waters, which is quite a substantial trip for a 15' open boat, so I am really pleased that the extra ballast has had such a good result.


---
Design 077 Slideshow
I've added a lot more photos to the 077 slideshow, so it's now over 60 slides long. It takes a moment or two to load – many more and I'll have to split it into two slideshows!

The boat is very nearly finished – the last few slides are currently the casting of the lead keel. The builder has made a beautiful job of the boat – I do congratulate him. I'm looking forward very much to seeing her (the boat) on the water and sailing.

The slideshow link is here. It plays at 5 second intervals but you can pause it and manually advance or reverse, if you need more time to read the captions.
---
Boat Kits by Truecraft
We are excited to announce that Boat Kits by Truecraft of Adelaide, South Australia are setting up to build and market our designs, specifically building them from pre-cut parts.

The first two boats they are building are are No. 077 (15'6" Pocket Cruiser) and then No. 074 (19' 2-Berth Sloop). The files for CNC cutting are already available for Design 074, and we are now in the process of developing them for No. 077.

Truecraft will build a boat for you or provide space in their workshops for you to build, offering professional assistance if needed.

Contact Graham at graham@internode.on.net for more information.

I am looking forward very much to working with Graham on this project.
---
Design 077 Photos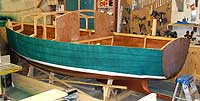 Design 077 seems to be in the news at the moment! Anyway, I've just posted some good photos of a No. 077 in build on to the site.

She is a really super little boat – hard to remember that she is only 15' long! Sometime soon I will redraw the frames so that they can alternatively be made "sandwich-style" from ply.


---
Design 037
One of our builders has just finished his 037 design – look on the Design Page for this boat and you can see a short video of the first sail on Lake Mogan-Ankara, Turkey. And also a video of stages in the construction.

Congratulations on a great job!

George



---
New Design Courses
We are considering offering one-on-one residential yacht design courses combined with a vacation at the Captain Zadoc F. Brewster House, our fine old Sea Captain's house in Rockland, Maine. Courses can be arranged for a week's duration; or indeed longer periods.

The basic principle is that during the week (or whatever period) you and I would work together one-on-one to design a boat of your choice. This would be a chance to design a boat to build that isn't in our current design portfolio – a design that incorporates what you want out of a boat.

It can be a design for self-build – or for you to place an order for professional build. Or indeed if you already have a design, we can use the time to draw out and plan the build of the boat.

You can come on your own, or with your family, or friends, who can enjoy a stunning vacation exploring the art galleries, restaurants, sports facilities, the wonderful scenery and other amenities of the Penobscot Bay area of Maine.

In the evenings a cosy wood fire in the apartment – maybe a few congenial glasses of wine … what more could one want!

Subject to availability, the cost would be a discounted season rate for the apartment plus a design fee of $1,000 for a full week – other periods pro-rata. The use of all necessary computers and programs is included. The program is tailored to suit what you want to do.

We would retain the right to offer the design on our website in the future. You would have the right to build a boat from it.

To make the course truly productive, we would need to establish in advance what we were going to work on, so that we can prepare all the necessary preliminary data.

With a very open curriculum like this it is not possible to say exactly what can be achieved, but we would expect you to come away with a basic understanding of the design process and the design calculations. Design notes and basic calculations will be provided for you to retain.

The amount of finished drawings will of course depend on the length of the course and the size of the boat. We can't design a 60' sailboat in a week but we could have a good shot at a 15 footer!


---
037 on youtube
One of our builders of Design 037 has posted a short video of making parts for the boat on youtube:

http://www.youtube.com/watch?v=X3NZhg8ekFI&feature=youtu.be

But what I really enjoyed was another video he posted here on youtube

Take a look and see!
---
Progress on 119W


Anyone interested in design 119 or the wider, longer version that Achim Groh is building should take a look on his site at http://whisstock119.clanmeets.de.

As well as making a really beautiful job of the boat he is making very fast progress too! So fast that I can't even begin to keep up with posting the pictures on the 119W web page.

And I truly wish I could keep my work space as clean as this!

Great job Achim .
---
Home
|
8' chine sailing pram
|
8' classic sailing pram
|
10'3" gaff sailing dinghy
|
10'6" gaff sailing dinghy
|
15' half-deck yawl
15'6" 2-berth yawl
|
17'6" 3-berth yawl
|
18'6" 3-berth yawl
|
19' 2-berth sloop
|
20' 4-berth yawl
23' chine cutter
|
23' classic gaff cutter
|
26' fast sloop
|
30' fast cutter
|
67' cruising cutter
22' cat yawl
|
Extended No. 119
|
Commissioning a New Design
|
Why wood-epoxy?
|
Wood-epoxy #1
|
Wood-epoxy #2
|
Wood-epoxy #3
|
Aluminium Construction
|
Steel Construction
Woodbridge Poster
|
Rockland USA
|
Woodbridge UK
|
Whisstocks 1926-1990
Plan formats
|
Support
|
How to order
|
Study plans
|
Build plans
|
Designer
|
Kits
|
Laminating
|
Company
|
Privacy
|
Contact
Site designed, programmed and hosted by Debenriver Ltd