The George Blog – Category: The Odd Word (10 Most Recent)
Re-caulking Dazy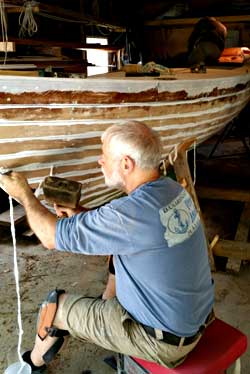 Recently I've been helping a friend complete the restoration of his Herreshoff Buzzards Bay 14.

She has been completely re-timbered (new steam-bent frames), several new planks both port and starboard, and re-fastened throughout. She has also had new sidedeck carlings and beams and an all-new aft deck

The original sidedecks were refitted and the foredeck refastened; both were then covered with epoxy-bonded marine ply and Dynel cloth. The original coamings, washcoamings and trim have been refitted

As the photo shows, I re-caulked the hull – the last time I did any caulking was in 1969! It was a bit easier at 25 years of age, than it was at 73. Specially as to get at the bottom four of five seams I had to lay on my back on the concrete floor! And as you can see, I didn't have a traditional caulking mallet - my ordinary mallet had to serve.

Re-caulking a boat that has been out of the water for about five years is a bit tricky because the planking is very dry – you have to judge driving the cotton just enough to be secure, but not so hard that it causes damage as the planking swells up once she is afloat. To help this we wetted her out with rolls of wet sacking for about a week before caulking.

I guess I can put the caulking irons away for another 48 years now ...
---
Addition/Extension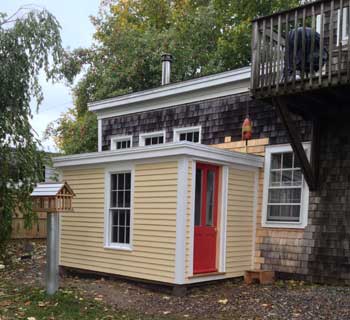 We're building a small extension ("addition" in the US) on to our apartment to give us a proper front entrance hall and also a small second bathroom, with a shower.

The first good rainstorm produced water leaking under the door sill – between the sill and the floor plate.

Now you would think that a boatbuilder of my capabilities (?) could build a watertight glorified garden shed wouldn't you?

Very frustrating to say the least!! I though I had designed and built it to be properly watertight ...

Cheers -- George
---
A sad day for the UK
Vast sadness at the Brexit vote.

I've always though of myself as a European – now suddenly I wake up to find I'm soon not going to be one any more.

A horrible campaign ridden with lies, deceit and misinformation. An understandable but misguided – and in the end, useless – protest against the non-caring elite.

Very depressing ...
---
RealCADD
RealCADD is the 2D CAD program that I use for all the drawings of my designs. And I also use it to produce the CNC cutting files.

RealCADD is written and maintained by Eric Pousse, who is based in France. It is not an expensive program, but it is very richly featured, accurate and easy to use. I really enjoy using it.

RealCADD lacks a good English manual, so I have been working on producing one – in between boat design.

Anyway, it's basically done now and available at whisstock.com/realcadd for anyone who's interested!

Cheers -- George
---
'Tis the season
Here in Maine for Fiddleheads, Dandelion Greens, Asparagus and Chard! Wonderful!
---
Happy New Year!
To all those building my designs, or interested in them, or just visiting this website my very best wishes for 2015.

Above all may it be peaceful and bring happiness, satisfaction and success in your endeavours.

George
---
First do no harm
We are in England this year over the Thanksgiving celebration and working too hard to think about a special meal!

But as we approach the end of the year it always seems a good time to pause for reflection.

Being a humanist doesn't stop you enjoying the traditional aspects of Christmas, especially the music, a christmas tree, the giving of presents, and the celebration of family. After all a festival around the time of the winter solstice is probably as old as humanity itself.

And being a vegan vegetarian doesn't stop you making special food to celebrate – just different food.

At its core the vegan way of life can be summed up in the Latin phrase "Primum Non Nocere" – First Do No Harm. You try to look at everything you eat, everything you use and everything you do, from this perspective.

We share the Earth with many many thousands of other species and we all of us have this one life to live and enjoy.

As probably the most intelligent and certainly the most developed, of these species I think we have a special responsibility not to cause harm to, or shorten the lives of, any of them, including our own.

George


---
Trying plane
I'm making some kitchen countertops from 230mm x 20mm (9" x 3/4") Hard White Maple. The boards are about 3.000m (10') long – far to long for my little surface planer (jointer) to straighten the edges.

So, for the first time in about 40 years I got out my steel trying plane (a trying plane is the longest hand plane in general use at about 450mm/18" long), to plane the edges straight and square ready to be biscuit-jointed and glued together.

Building traditional carvel yachts often required the edges of a plank some 12m (40') long to be faired and a trying plane was a good tool for that job – but they didn't have to fit with quite the accuracy of a visible glued join in a kitchen counter top!

The most accurate/difficult job on these traditional boats was the coachroof/doghouse/cockpit coamings, which were often constructed from a single length of 25mm (1") Iroko, perhaps 10m (32') long, joined up from two widths, with vertical grain styles between the doghouse windows. Anyway, the trying plane came into use on those too.

The first countertop is glued up (I used WEST) and my shoulders ache! Another, longer one, to do tomorrow ...
---
Happy New Year!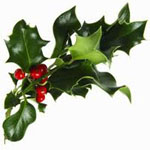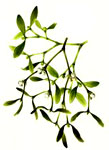 So the world didn't come to an end, which is good!

Here in the Northern Hemisphere, we are at the winter solstice and from now on the days will gradually start to lengthen into Spring and Summer.

But at the moment, here in England, the days are short and the nights are long and boatbuilding plans are probably on hold during the festive season!

I'm sure we all of us, the world over, hope for a peaceful and productive year ahead.

Season's Greetings to all Whisstock's members and my Best Wishes for a very Happy New Year.

George
---
Diversification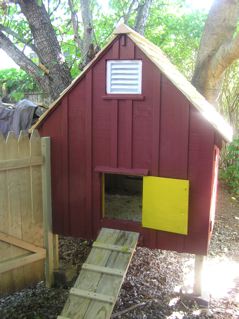 We seem to have diversified into chickens! Four hens to be precise. Barnvelders is the breed. They came from friends of ours, Tanya and Craig Winchenbach.

So, abandoning boat design for a week, I built a chicken house for them. Which, after serious research and careful design (and also looking closely at Craig's chicken house), seems to have turned out quite nicely! Cathy painted it "barn red" with a yellow door.

We are pretty much vegan, but if we know that they come from really happy well cared for chickens we do eat eggs sometimes. Our chickens are certainly well cared for and seem very happy (they can and do free range during the day).

At the moment (about 5 weeks in) we get about two eggs every three days; estimated cost per egg = $30.00. Worth every penny?

But they are great guys, very individualistic and surprisingly fun to hang out with.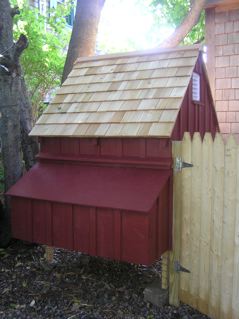 My last experience of chickens was when my parents departed for two weeks holiday on the boat, sailing to Holland, leaving me and my baby sister in the care of our grandparents.

This was August 1948. I was four and a bit; my sister was just a few months old. I still have a postcard from my dad, from Holland, exhorting me, among other less important things, to "remember to feed the chickens"!

Back to boat design! Currently working on the twin rudders for Design No. 152. Twin rudders, specially spade rudders, are quite a lot of work because the linkages to the tiller get fairly complicated and it is difficult to use standard components.

Ho-hum.
---
Home
|
8' chine sailing pram
|
8' classic sailing pram
|
10'3" gaff sailing dinghy
|
10'6" gaff sailing dinghy
|
15' half-deck yawl
15'6" 2-berth yawl
|
17'6" 3-berth yawl
|
18'6" 3-berth yawl
|
19' 2-berth sloop
|
20' 4-berth yawl
23' chine cutter
|
23' classic gaff cutter
|
26' fast sloop
|
30' fast cutter
|
67' cruising cutter
22' cat yawl
|
Extended No. 119
|
Commissioning a New Design
|
Why wood-epoxy?
|
Wood-epoxy #1
|
Wood-epoxy #2
|
Wood-epoxy #3
|
Aluminium Construction
|
Steel Construction
Woodbridge Poster
|
Rockland USA
|
Woodbridge UK
|
Whisstocks 1926-1990
Plan formats
|
Support
|
How to order
|
Study plans
|
Build plans
|
Designer
|
Kits
|
Laminating
|
Company
|
Privacy
|
Contact
Site designed, programmed and hosted by Debenriver Ltd