The George Blog – The Value of Work & Comments
The Value of Work
I just finished a review of a book by Matthew Crawford, Shop Class as Soulcraft: An Inquiry into the Value of Work – you can read the review here. Crawford writes about a subject dear to me: the value, both intellectual and actual, of learning and practicing a manual skill.

So often today manual skills are consigned to the bottom of the heap in people's minds. Compare the reaction when someone asks what I do: 'boatbuilder' provokes a somewhat dismissive and slightly bored "how quaint" whereas 'yacht designer' tends to produce a "professional/intelligent/how interesting" type reaction. In fact designers are nothing without boatbuilders, but skilled boatbuilders, like the master builders of the Middle Ages, can mostly build a boat from their own knowledge. In reality of course both designer and builder are necessary to produce a special result and both have their vital part to play in the process. And a designer who has also built boats has a big advantage over one who hasn't, because they have 'real' knowledge.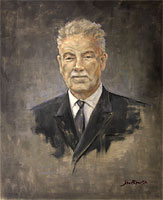 By happy coincidence, my wife Cathy recently commissioned a portrait of my dad as a 65th birthday present. The artist is John Roberts, a good friend and a really special person, who also knew my father. The portrait, painted largely from memory, evokes my father to such an extent that I sometimes feel uncomfortable being in the room with it, even though, or maybe because, the pose is one of a rare formality. I particularly like the gravitas of the portrait – my father is comfortable in his profession of a boatbuilder, not troubled by thoughts of artisan versus intellectual. He was perfectly capable of designing a boat if necessary (and did on occasion); but mostly he was the true artisan who simply turned other peoples dreams into reality. For him the quality and integrity of the final product represented what he did and what he was as a person. And indeed his products outlive him and he is remembered by them.

John paints East Anglian (including Woodbridge) scenes, portraits and, inevitably, boats, and much more besides – you can find him at Top Floor Studio in Woodbridge, close to the old boatyard. Go take a look online or pop in if you are ever in Woodbridge.



Comments
This article does not have any comments.
Post a comment
Home
|
8' chine sailing pram
|
8' classic sailing pram
|
10'3" gaff sailing dinghy
|
10'6" gaff sailing dinghy
|
15' half-deck yawl
15'6" 2-berth yawl
|
17'6" 3-berth yawl
|
18'6" 3-berth yawl
|
19' 2-berth sloop
|
20' 4-berth yawl
23' chine cutter
|
23' classic gaff cutter
|
26' fast sloop
|
30' fast cutter
|
67' cruising cutter
22' cat yawl
|
Extended No. 119
|
Commissioning a New Design
|
Why wood-epoxy?
|
Wood-epoxy #1
|
Wood-epoxy #2
|
Wood-epoxy #3
|
Aluminium Construction
|
Steel Construction
Woodbridge Poster
|
Rockland USA
|
Woodbridge UK
|
Whisstocks 1926-1990
Plan formats
|
Support
|
How to order
|
Study plans
|
Build plans
|
Designer
|
Kits
|
Laminating
|
Company
|
Privacy
|
Contact
Site designed, programmed and hosted by Debenriver Ltd