The George Blog – Garlic Greens! & Comments
Garlic Greens!
Another damn soup .....

The problem with Spring here in Maine is that there are so many unusual vegetables around that I (well Cathy even more than I) always feel impelled to buy them and then find something to do with them.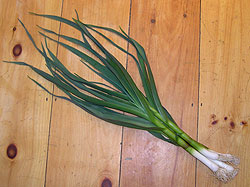 Garlic greens are the perfect example (dandelion greens and beet tops are coming - be warned). This immature stage of garlic is mild and sweet. Chefs worldwide are awaiting it. And we have it in our local farmstand right now. More than that, I have it in my kitchen right now.

Now the recipe that follows is neither simple nor cheap. But it is delicious. It is Garlic Green, Asparagus and Leek Soup. And serendipiously all the main ingredients are available now!

So here we go; it makes quite a bit of soup and it takes a while to make it:

Ingredients:

4 garlic greens. As you can see from the photo there is quite a lot of green.
2 bunches asparagus.
3 leeks.
1500mL (6 cups) vegetable stock.
250mL (1 cup) dry white wine.
Handful fresh thyme - say about 2 Tbsp when chopped.
3 Tbsp olive oil.
A few chopped chives or pea sprouts for garnish.

Preparation:

Garlic Greens: Wash the garlic greens. Discard any yellowed bits of the leaves. Cut off the root (just the last 3mm - 1/8" with the wriggly bits attached). Chop into 12mm (1/2") lengths and wash thoroughly – it can be gritty.

Leeks: Wash the leeks. Cut off the roots. Slice lengthwise. Chop into 6mm (1/4") slices. Use everything, except the very coarse top parts of the outer leaves or any bits that have gone yellowey. Wash very thoroughly, again because they can – almost certainly will be – gritty.

Asparagus: Trim off the bottom 12mm (1/2"). Cut off the top tips – say the last 45mm (1-3/4") and reserve for later. Peel the bottom 50mm (2") of each stalk (tedious ... extremely tedious ...). Cut into 12mm (1/2") lengths. Wash.

Ok – here we go ...

Method:

Heat the oil in a heavy bottomed pan.
Sauté the garlic for about 7 minutes.
Add the leeks and continue cooking until transparent – about 15 minutes, with the lid on for the final 7 minutes or so. Don't let them brown. Add a soupçon or two of wine if necessary.
Add the wine and reduce (technical term for cook reasonably gently until almost all the liquid is cooked away). Stir frequently.
Add the chopped asparagus, herbs and stock.
Simmer until everything, especially the asparagus, is tender – this can take quite a while, perhaps 50 minutes. Just let it simmer very gently – don't be impatient.
Whizz up in a liquidizer (blender) until it is really very smooth. You will most likely have to do this in batches.
To make the soup really smooth (and better consistency, without fiberish bits) push through a sieve. I use an ordinary stainless steel sieve and a wooden spoon, which is time consuming and makes your arms ache – a proper "Mouli" would be preferable.
Return the puréed soup to the pan; add the asparagus tips. Cook gently until the asparagus tips are tender (usually about 10 minutes).

Pour into bowls, garnish and serve. If you are still awake that is.

Remember never to be tempted to buy garlic greens again. Not ever never.


Comments
This article does not have any comments.
Post a comment
Home
|
8' chine sailing pram
|
8' classic sailing pram
|
10'3" gaff sailing dinghy
|
10'6" gaff sailing dinghy
|
15' half-deck yawl
15'6" 2-berth yawl
|
17'6" 3-berth yawl
|
18'6" 3-berth yawl
|
19' 2-berth sloop
|
20' 4-berth yawl
23' chine cutter
|
23' classic gaff cutter
|
26' fast sloop
|
30' fast cutter
|
67' cruising cutter
22' cat yawl
|
Extended No. 119
|
Commissioning a New Design
|
Why wood-epoxy?
|
Wood-epoxy #1
|
Wood-epoxy #2
|
Wood-epoxy #3
|
Aluminium Construction
|
Steel Construction
Woodbridge Poster
|
Rockland USA
|
Woodbridge UK
|
Whisstocks 1926-1990
Plan formats
|
Support
|
How to order
|
Study plans
|
Build plans
|
Designer
|
Kits
|
Laminating
|
Company
|
Privacy
|
Contact
Site designed, programmed and hosted by Debenriver Ltd