The George Blog – Radish Tops & Comments
Radish Tops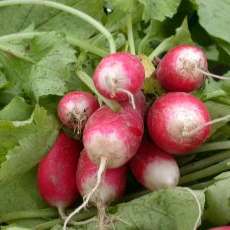 New season's radishes are now coming into the farmstands (farm shops for my British readers) here in Maine. Anciently an essential, now rather neglected, I hate to see radishes sidelined into a salad garnish. I love their spicy taste and firm texture, with a glass of pinot and a coarse oatmeal biscuit.

But don't neglect the green tops either. Buy your radishes from somewhere that you know hasn't sprayed the shit out of them with pesticides and use the greens to make a delicious and unusual soup.

You need a really nice big bunch of leafy greens (say about 175g - 6oz) – they need to be fresh and sprightly. The ones I used had really small early radishes on them - they were in fact mostly green tops! Supermarket radishes are often all radish root and not much green, and what there is can be a bit wilted, so not much use for this purpose.

Cut the tops off the radishes. Save a few of the radishes for garnish in the soup. While the soup cooks, enjoy the remainder, not forgetting the glass of pinot and a few oatmeal biscuits.

You also need:

1 small onion, chopped fine.
4 cloves garlic, sliced fine.
1 medium potato, diced.
2 Tbsp olive oil
Herbs (fresh – any you happen to have; dried – Italian seasoning is good). Use a handful of fresh (before chopping), say 1 tsp of dried.
400mL (about 1-2/3 cups) vegetable stock.
250mL (about 1 cup) dry white wine

Method:

Wash the radish greens well to get rid of any sand and grit. Chop fairly coarsely.
Heat the oil in a heavy-bottomed pan.
Add the garlic; sauté for about 1 minute.
Add the onion; sauté for about 5-10 minutes (put the lid on for the last 5 minutes).
Add the potato and stir until it is coated in the oil.
Add the radish greens and cook on a lowish heat until they start to go limp (2 or 3 minutes, lid on - stir from time to time).
Add the wine and cook on a higher heat until it is mostly evaporated.
Add the vegetable stock and the herbs.
Bring to the boil and simmer until everything is tender - about 40 minutes.
Whizz up in a liquidizer (blender) until it is really smooth.
Return to the pan and reheat.

Serving (serves two):

Slice the radish garnish really fine (1.5mm - 1/16").
Serve the soup adding a few radish slices to each bowl. You could add a few chopped chives as garnish as well if you like. You could decorate with a whirl of soy silk or similar if you wish.
Serve with crusty wholemeal bread and a glass of steely white wine or a mild soft red.

Retire to bed and watch a movie. Peace and pleasure.

Comments
This article does not have any comments.
Post a comment
Home
|
8' chine sailing pram
|
8' classic sailing pram
|
10'3" gaff sailing dinghy
|
10'6" gaff sailing dinghy
|
15' half-deck yawl
15'6" 2-berth yawl
|
17'6" 3-berth yawl
|
18'6" 3-berth yawl
|
19' 2-berth sloop
|
20' 4-berth yawl
23' chine cutter
|
23' classic gaff cutter
|
26' fast sloop
|
30' fast cutter
|
67' cruising cutter
22' cat yawl
|
Extended No. 119
|
Commissioning a New Design
|
Why wood-epoxy?
|
Wood-epoxy #1
|
Wood-epoxy #2
|
Wood-epoxy #3
|
Aluminium Construction
|
Steel Construction
Woodbridge Poster
|
Rockland USA
|
Woodbridge UK
|
Whisstocks 1926-1990
Plan formats
|
Support
|
How to order
|
Study plans
|
Build plans
|
Designer
|
Kits
|
Laminating
|
Company
|
Privacy
|
Contact
Site designed, programmed and hosted by Debenriver Ltd