The George Blog – It's Fiddlehead Time! & Comments
It's Fiddlehead Time!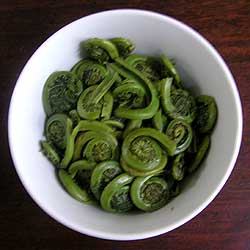 April and May is the time for fiddleheads in Maine.

Fiddleheads are the curly tops of the Ostrich Fern. They start poking their heads through the ground by the banks of rivers, streams, and brooks in April and May. They are harvested when the tender little rolls of ostrich fern are 25mm – 50mm (an inch or two) above the ground.

My favorite way to cook them (you shouldn't eat them raw) is to trim the stalks, wash them thoroughly and then steam them for about 15 minutes. Eat them with vegan margarine and cider vinegar, and, say steamed new potatoes. They are absolutely delicious and nutritious. An authentic taste of Maine! Nice with a mild red wine or a steely white.

Steamed fiddleheads are slightly, but not unpleasantly, bitter. Boiling them reduces this but must take away too much of the nutritional value.

It would seem that 100g of Fiddleheads give you 5g of fibre. And, based on a 2000 calories per day diet they give you (as % of daily need): Vitamin A 72%, Vitamin C 44%, Calcium 3%, Iron 7%. They are also a good source of Riboflavin, Niacin, Magnesium, Phosphorus, Potassium, Copper, Zinc and Manganese. Low on sodium and low on fat and only 34 calories (before the margarine that is). So good news all round!

There is the possibility that uncooked or under-cooked fiddleheads may contain a toxin that will make you unwell although this has never been established – so do cook them properly (10 minutes for boiling, 15 minutes for steaming) to be on the safe side. I've eaten loads of them and never been unwell.

Comments
This article does not have any comments.
Post a comment
Home
|
8' chine sailing pram
|
8' classic sailing pram
|
10'3" gaff sailing dinghy
|
10'6" gaff sailing dinghy
|
15' half-deck yawl
15'6" 2-berth yawl
|
17'6" 3-berth yawl
|
18'6" 3-berth yawl
|
19' 2-berth sloop
|
20' 4-berth yawl
23' chine cutter
|
23' classic gaff cutter
|
26' fast sloop
|
30' fast cutter
|
67' cruising cutter
22' cat yawl
|
Extended No. 119
|
Commissioning a New Design
|
Why wood-epoxy?
|
Wood-epoxy #1
|
Wood-epoxy #2
|
Wood-epoxy #3
|
Aluminium Construction
|
Steel Construction
Woodbridge Poster
|
Rockland USA
|
Woodbridge UK
|
Whisstocks 1926-1990
Plan formats
|
Support
|
How to order
|
Study plans
|
Build plans
|
Designer
|
Kits
|
Laminating
|
Company
|
Privacy
|
Contact
Site designed, programmed and hosted by Debenriver Ltd