The George Blog – Re-caulking Dazy & Comments
Re-caulking Dazy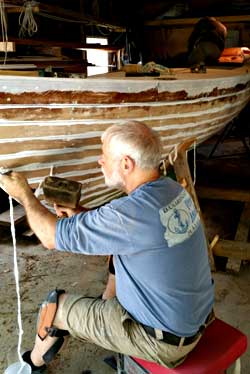 Recently I've been helping a friend complete the restoration of his Herreshoff Buzzards Bay 14.

She has been completely re-timbered (new steam-bent frames), several new planks both port and starboard, and re-fastened throughout. She has also had new sidedeck carlings and beams and an all-new aft deck

The original sidedecks were refitted and the foredeck refastened; both were then covered with epoxy-bonded marine ply and Dynel cloth. The original coamings, washcoamings and trim have been refitted

As the photo shows, I re-caulked the hull – the last time I did any caulking was in 1969! It was a bit easier at 25 years of age, than it was at 73. Specially as to get at the bottom four of five seams I had to lay on my back on the concrete floor! And as you can see, I didn't have a traditional caulking mallet - my ordinary mallet had to serve.

Re-caulking a boat that has been out of the water for about five years is a bit tricky because the planking is very dry – you have to judge driving the cotton just enough to be secure, but not so hard that it causes damage as the planking swells up once she is afloat. To help this we wetted her out with rolls of wet sacking for about a week before caulking.

I guess I can put the caulking irons away for another 48 years now ...
Comments
I suspect that if the "govner" had seen the mallet in the yard, the corner window of the office would have flown open and a cryptic comment made at best.
Pat Walton
Date posted: Tuesday, 12 Sep 2017 |
posted by: jamieson
---
Post a comment
Home
|
8' chine sailing pram
|
8' classic sailing pram
|
10'3" gaff sailing dinghy
|
10'6" gaff sailing dinghy
|
15' half-deck yawl
15'6" 2-berth yawl
|
17'6" 3-berth yawl
|
18'6" 3-berth yawl
|
19' 2-berth sloop
|
20' 4-berth yawl
23' chine cutter
|
23' classic gaff cutter
|
26' fast sloop
|
30' fast cutter
|
67' cruising cutter
22' cat yawl
|
Extended No. 119
|
Commissioning a New Design
|
Why wood-epoxy?
|
Wood-epoxy #1
|
Wood-epoxy #2
|
Wood-epoxy #3
|
Aluminium Construction
|
Steel Construction
Woodbridge Poster
|
Rockland USA
|
Woodbridge UK
|
Whisstocks 1926-1990
Plan formats
|
Support
|
How to order
|
Study plans
|
Build plans
|
Designer
|
Kits
|
Laminating
|
Company
|
Privacy
|
Contact
Site designed, programmed and hosted by Debenriver Ltd