The George Blog – Sapphire 27 & Comments
Sapphire 27
Some years ago we designed a super-classy modern sailboat called the Sapphire 27 – our Design No. 056.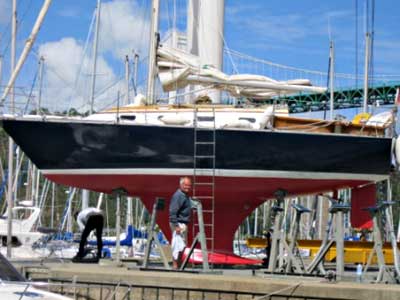 She was exhibited at the 1995 Southampton Boat Show. And she proved to be an extremely fast and capable sailboat. Unfortunately the company that marketed the boat went out of business and no more were built.
I think that is really sad, because she is a great boat. She has sailed thousands of sea miles from England to Spain and back, crossing the Bay of Biscay many times. She has more than fulfilled the promise of her early sail trials.
I always thought that the original design had one major drawback – she deliberately had only good sitting headroom down below. I reckon at 27' (8.23m), one should be able to have reasonable standing headroom throughout the accommodation, especially if the boat is to be for family use.
So we redesigned the boat to have a little more freeboard and coachroof height – so she has good headroom throughout. We simplified the ballast keel and re-did the structures so that a variety of interiors could be accommodated without structural alterations; and we simplified the rig somewhat.
Other than that she is the same great seaworthy and fast sailboat. She is not difficult to build – but as home builders know only too well, 27' is quite a lot of boat in terms of time to build.
Over the next few months we will be developing the build plans and instructions so that they become available as a download.
Comments
Can't wait to see this new design. It seems like a smaller and affordable version of the 30' cruising cutter (design 067).

I really love everything about this new boat - design 056_02 – Sapphire 27: the lines of the hull, the sailplan, the accomodation, the various keel options, and most of all the 41,3 DSF number. Maybe the tiller steering will be available in the future, but the wheel steering is perfect too.

Thanks very much for this marvelous design, and I am waiting with patience the developing of the complete building plans, because this is the boat I always dreamed of.
Date posted: Tuesday, 10 Jan 2017 |
posted by: Vali
---
Hi,
are there any updates for design?

Ciao e and good wind!

Gino
Date posted: Monday, 25 Sep 2017 |
posted by: Max1947
---
Post a comment
Home
|
8' chine sailing pram
|
8' classic sailing pram
|
10'3" gaff sailing dinghy
|
10'6" gaff sailing dinghy
|
15' half-deck yawl
15'6" 2-berth yawl
|
17'6" 3-berth yawl
|
18'6" 3-berth yawl
|
19' 2-berth sloop
|
20' 4-berth yawl
23' chine cutter
|
23' classic gaff cutter
|
26' fast sloop
|
30' fast cutter
|
67' cruising cutter
22' cat yawl
|
Extended No. 119
|
Commissioning a New Design
|
Why wood-epoxy?
|
Wood-epoxy #1
|
Wood-epoxy #2
|
Wood-epoxy #3
|
Aluminium Construction
|
Steel Construction
Woodbridge Poster
|
Rockland USA
|
Woodbridge UK
|
Whisstocks 1926-1990
Plan formats
|
Support
|
How to order
|
Study plans
|
Build plans
|
Designer
|
Kits
|
Laminating
|
Company
|
Privacy
|
Contact
Site designed, programmed and hosted by Debenriver Ltd