The George Blog – Design 077 CNC Files & Comments
Design 077 CNC Files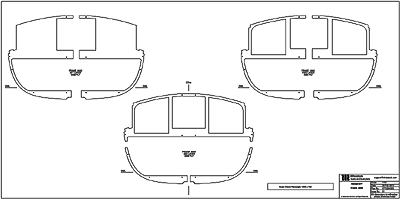 We have just completed files to allow all the plywood parts for Design 077 to be CNC cut. And these are now available on the website here. The files are in DXF format.

The files include new ply sandwich-construction frames.

The picture on the left is an image of the file for Frame -2695 showing the three layers of the frame.

These are located correctly together by a short length of 8mm dowel rod pushed through pre-cut holes in the ply, making assembly of the frames very fast, easy and accurate.

The frames end up with a stepped bevel on the outside edges; the thickened epoxy bonding the skin on will easily fill the little steps, so no bevelling is required.

Also included are files for all the lapstrake planking and pretty much all other components, flat or curved, that are made from ply. As far as possible we have used 9mm ply, so that builders will get economy of material when the components are nested for cutting.

The files are suitable for either laser or router cutting. All components are arranged so they can be cut from standard 2440 x 1220 (8' x 4') sheets, which can be pre-epoxy coated and sanded if wished. The files can be emailed to a local CNC facility (they don't have to have done boat work before). PDF files of each DXF file are included so that both builder and CNC cutter knows what the parts should look like.

As ever, we are happy to discuss the files with a CNC cutting facility, should there be a problem. Our experience so far with CNC cutting in many different countries around the world, many of whom had not ever cut boat parts before, indicates that the process goes very smoothly and easily, with near-perfect results.
Comments
Hı
I added in my portfolio these CNS files.
I tried all prodecures on web page.
Yet ı couldn't download CNS.
There is not any problem for PDF files.
How am i solve this problem.
Best regards.
Date posted: Wednesday, 01 May 2013 |
posted by: sahinmender
---
DXF files (for CNC cutting) need a slightly different procedure for saving them to your computer.

Have you tried the methods on the menu "Info - DXF Downloads"?

If it still doesn't work for you I can email them to you as attachments. That will solve the problem.

Let me know -- George
Date posted: Thursday, 02 May 2013 |
posted by: debenriver
---
Post a comment
Home
|
8' chine sailing pram
|
8' classic sailing pram
|
10'3" gaff sailing dinghy
|
10'6" gaff sailing dinghy
|
15' half-deck yawl
15'6" 2-berth yawl
|
17'6" 3-berth yawl
|
18'6" 3-berth yawl
|
19' 2-berth sloop
|
20' 4-berth yawl
23' chine cutter
|
23' classic gaff cutter
|
26' fast sloop
|
30' fast cutter
|
67' cruising cutter
22' cat yawl
|
Extended No. 119
|
Commissioning a New Design
|
Why wood-epoxy?
|
Wood-epoxy #1
|
Wood-epoxy #2
|
Wood-epoxy #3
|
Aluminium Construction
|
Steel Construction
Woodbridge Poster
|
Rockland USA
|
Woodbridge UK
|
Whisstocks 1926-1990
Plan formats
|
Support
|
How to order
|
Study plans
|
Build plans
|
Designer
|
Kits
|
Laminating
|
Company
|
Privacy
|
Contact
Site designed, programmed and hosted by Debenriver Ltd