The George Blog – 160 Progress & Comments
160 Progress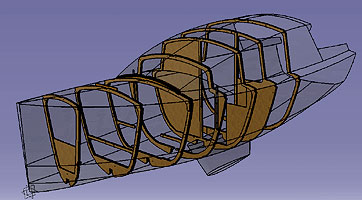 The new EasyBuild 7.315m (24'0") Design 160, Full Headroom Sloop is proceeding apace. In collaboration with a colleague in Turkey we also are modeling the entire design in 3-D.

One important aspect of this is that we are drawing the frame layers first, ready for CNC cutting, and then inserting them into the model. So we are, in effect, building our virtual boat, from the real full-size parts as drawn.

As well as ensuring everything fits properly, this will also allow us provide a variety of 'walk-throughs' and other 3-dimensional illustrations which are so helpful in understanding how a new, as yet un-built design works.

As can be seen from the illustration, we have modeled the skin of the vessel and fitted the first seven frames/bulkheads. Once we complete the transverse structures, the longitudinals will be fitted into place and then the interior furniture.

I am also making a new webpage so that the design process can be followed and discussed in some detail.

Comments
This article does not have any comments.
Post a comment
Home
|
8' chine sailing pram
|
8' classic sailing pram
|
10'3" gaff sailing dinghy
|
10'6" gaff sailing dinghy
|
15' half-deck yawl
15'6" 2-berth yawl
|
17'6" 3-berth yawl
|
18'6" 3-berth yawl
|
19' 2-berth sloop
|
20' 4-berth yawl
23' chine cutter
|
23' classic gaff cutter
|
26' fast sloop
|
30' fast cutter
|
67' cruising cutter
22' cat yawl
|
Extended No. 119
|
Commissioning a New Design
|
Why wood-epoxy?
|
Wood-epoxy #1
|
Wood-epoxy #2
|
Wood-epoxy #3
|
Aluminium Construction
|
Steel Construction
Woodbridge Poster
|
Rockland USA
|
Woodbridge UK
|
Whisstocks 1926-1990
Plan formats
|
Support
|
How to order
|
Study plans
|
Build plans
|
Designer
|
Kits
|
Laminating
|
Company
|
Privacy
|
Contact
Site designed, programmed and hosted by Debenriver Ltd