The George Blog – Fat Double-Enders & Comments
Fat Double-Enders
I get a lot of emails discussing possible new designs and it is always interesting to comment on these. Recently one such discussion struck a chord with me because it embodied three lines of thought that had been somewhat vaguely passing through my mind for quite a while.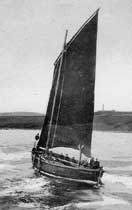 The first line of thought was basically a fairly "fat-bodied" double-ender. Perhaps a bit like a traditional Scottish Fife. But a bit more body around the bilge amidships.

Second was a cat rig. Now this is not inconsistent with as Fife at all. And I have been thinking that I should do another cat rig (aside from the new Design 152 – which is not traditional at all!).

Third was thinking about very simple stitch-and-glue construction. On simple ply frames. Everything could be CNC cut if required.

I'm hoping to be able to get this design, in two versions (about 5.5m and 6.0m – 18' and 20') up and running, at least as a design proposal, fairly soon.

So thanks to Mike for crystallizing some of these ideas.




Comments
I finally got my workshop built and currently putting in electricity. As you know I love double enders and if you are close (by fall 2011) to a buildable set of plans I would rather not start the plan 123 though if it were a double ender it would be perfect!

I might add I am very intimidated by pouring the lead. Do you know of any online articles describing a process I could do at home.
Date posted: Thursday, 12 May 2011 |
posted by: mikemitchell
---
The double-ender is going very slowly at the moment because of time constraints on other designs and work. But I'm thinking I should be there by the fall of 2011 with any luck!

I don't know of any online articles about pouring lead keels. I will have a better search and see if I can come up with something. I know several builders have done it OK. And I have done it myself a long time ago. Lead isn't nice stuff when molten so you do need to be careful and wear appropriate mask and clothing. And be very organized with enough heating equipment etc. I will try to do some calcs. for you about necessary heat and so on.

George
Date posted: Thursday, 12 May 2011 |
posted by: debenriver
---
Thanks.
At one time I learned to do sand metal metal casting. Think it was called green sand. Made a plug packed sand around it pulled plug poured in the metal. Ironically my project was a boat cleat.

I did some CAD work on the 123 . (just for fun) Put on a pointy stern. Looks great still enough room in the cockpit too. Ah the temptation but I dont know anything about the aft end underwater shape to risk it. Hopefully you will have the vdouble ender plans done by fall.
Have a great summer. Dont forget to go sailing!
Date posted: Friday, 13 May 2011 |
posted by: mikemitchell
---
Most people have made a concrete mould in the ground which seems to work very well and is reasonably simple to do.

123 would probably be just fine with a pointy stern as long as the waterlines run out nicely.

The problem with sailing this year is that we sail with a friend here in Rockland (well nearby Rockport actually) in his Herreschoff 15' – lovely little day sailer – but she is laid up for repairs and re-timbering. So we might not get a sail this year at all unless I get the time to muck in and help!
Date posted: Friday, 13 May 2011 |
posted by: debenriver
---
Actually, now I think about it, it's a Herreschoff 12 1/2' not a 15' Lovely little boat by a great designer.

George
Date posted: Saturday, 14 May 2011 |
posted by: debenriver
---
Post a comment
Home
|
8' chine sailing pram
|
8' classic sailing pram
|
10'3" gaff sailing dinghy
|
10'6" gaff sailing dinghy
|
15' half-deck yawl
15'6" 2-berth yawl
|
17'6" 3-berth yawl
|
18'6" 3-berth yawl
|
19' 2-berth sloop
|
20' 4-berth yawl
23' chine cutter
|
23' classic gaff cutter
|
26' fast sloop
|
30' fast cutter
|
67' cruising cutter
22' cat yawl
|
Extended No. 119
|
Commissioning a New Design
|
Why wood-epoxy?
|
Wood-epoxy #1
|
Wood-epoxy #2
|
Wood-epoxy #3
|
Aluminium Construction
|
Steel Construction
Woodbridge Poster
|
Rockland USA
|
Woodbridge UK
|
Whisstocks 1926-1990
Plan formats
|
Support
|
How to order
|
Study plans
|
Build plans
|
Designer
|
Kits
|
Laminating
|
Company
|
Privacy
|
Contact
Site designed, programmed and hosted by Debenriver Ltd