The George Blog – 10 Most Recent Topics
Alternative WC Compartment for Design 119
Plans are now available in the standard plans package for the alternative WC compartment.

This has the toilet set fore-&-aft, facing aft, with the final forward part of the quarterberth top hinging up out of the way to give footroom.

A curtain from Frame -3150 (the main aft bulkhead) to Bulkhead -2250 can be easily arranged to give some privacy if wished.
---
Design 035 - CNC cutting files
CNC cutting files are now available for Design No. 035.

Also there is a new drawing in the standard plans pack which gives the necessary data for marking out and cutting out the developed shapes of the topsides and bottom planks.

Developed shapes are the shape to be marked out on a flat sheet, which will be the correct shape of the item (in this case the hull skin planks) when it is bent around in place on the hull. This saves taking patterns and so on.
---
Design 168 – Deben 4¾ -tonner
Gradually adding more plans for this design!
---
Deben 4¾ Tonner Plans
The first plans for this design are now on the site.

These show the basic longitudinal structures in plan and profile view, and drawings (including offsets) of the laminated frames.

The particular build for which these plans are drawn has an extended doghouse – the doghouse is extended by 200mm aft, though the companionway remains in the same place, giving a short entrance well as you come up from below into the cockpit.

This is a favourite arrangement of mine as it gives a sheltered area to transition from down below to the possibly cold and wet outside! It also makes a good sheltered place for the cook to stand mugs of soup and so on for the crew out in the cockpit.

There isn't a general arrangement drawing yet showing this arrangement – but I think it will improve the aesthetics as well as be very practical.
---
New Design No. 178 – Starfire 23
We've added a new design, the Starfire 23 – the first of a class of lapstrake sailboats 6m (20') and above.

The boat is built on seven ply-sandwich ring frames that can easily be CNC cut. There are six strakes in all – a flat bottom strake, four strakes in the hull proper and a full-length coachroof strake, all of which can be CNC cut if wished; we will also provide the data to mark out and cut all the ply components by hand if a builder prefers.

The design features a full width coachroof which gives a spacious interior and simplifies construction considerably.

The accommodation has four berths, a small saloon, a good galley and a separate WC compartment.

Build plans for this design will be available soon.
---
Instructions Book 5 for Design No. 165
Up until now, current builders have been using #119 instructions for the later part of building their boats.

The new #165 Instructions Book 5 now carries the builder through to completing the deck and superstructure structures. It also covers turning the boat over, setting up, epoxying the interior, planing and bevelling the sheer and making the ballast keel pattern – there is also a section on casting your own lead keel.
---
Re-caulking Dazy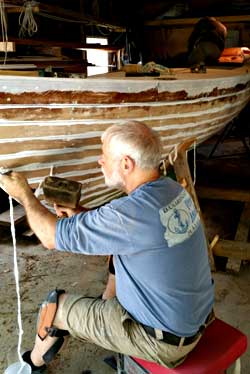 Recently I've been helping a friend complete the restoration of his Herreshoff Buzzards Bay 14.

She has been completely re-timbered (new steam-bent frames), several new planks both port and starboard, and re-fastened throughout. She has also had new sidedeck carlings and beams and an all-new aft deck

The original sidedecks were refitted and the foredeck refastened; both were then covered with epoxy-bonded marine ply and Dynel cloth. The original coamings, washcoamings and trim have been refitted

As the photo shows, I re-caulked the hull – the last time I did any caulking was in 1969! It was a bit easier at 25 years of age, than it was at 73. Specially as to get at the bottom four of five seams I had to lay on my back on the concrete floor! And as you can see, I didn't have a traditional caulking mallet - my ordinary mallet had to serve.

Re-caulking a boat that has been out of the water for about five years is a bit tricky because the planking is very dry – you have to judge driving the cotton just enough to be secure, but not so hard that it causes damage as the planking swells up once she is afloat. To help this we wetted her out with rolls of wet sacking for about a week before caulking.

I guess I can put the caulking irons away for another 48 years now ...
---
Addition/Extension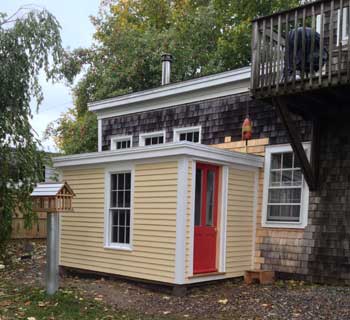 We're building a small extension ("addition" in the US) on to our apartment to give us a proper front entrance hall and also a small second bathroom, with a shower.

The first good rainstorm produced water leaking under the door sill – between the sill and the floor plate.

Now you would think that a boatbuilder of my capabilities (?) could build a watertight glorified garden shed wouldn't you?

Very frustrating to say the least!! I though I had designed and built it to be properly watertight ...

Cheers -- George
---
Deben 4-Tonner
I've taken the opportunity over the holiday period to complete the recreated Construction Plan for the Deben 4-tonner.

This has been a long while coming – but it is hard to find the time to do this sort of work. Recreating a pen and ink drawing using a CAD program is surprisingly difficult: the two media are very different.

The original tracings of the Deben 4-tonner are 80 years old and very yellowed and fragile, so any form of printing is pretty much impossible – which makes it a scale rule and drawing exercise – which is very time consuming.

I have W. M. Blake's own scale rules – so I feel it is appropriate that I have been using them to recreate his drawings 80 years on.


The original construction drawing also has three amusing little fish sketches, one of which is reproduced here. All three are on the recreated drawing, as they were on the original.

Now I have the Gaff Rig Sail Plan and the Bermudian Rig Sail Plan to do – neither of which is as complicated as the construction drawing, so I hope to get them done in the next few days.

I will also be scanning two original Deben 4-tonner brochures, including specifications, which may be of interest to Deben owners and possible new builders.

I think that among the Deben 4-tonner papers is a corrected Table of Offsets, produced after lofting – if so I will reproduce this also.

These plans, together with the corrected offsets and the brochures provide sufficient material fo anyone who would actually like to build a Deben 4-tonner today.

Cheers – and a Happy New Year – George


Update 02:01:2017 – Gaff and Bermudian Sail Plans completed and added!

---
Deben 4¾-Tonner – New Design
I have just added another new design – the Deben 4¾-Tonner, inspired by the original Deben 4-tonner, the design of which was commissioned by my father in 1936 from W. M. Blake.

Bringing together the best of traditional style sailboats with modern construction techniques, this new design gives builders the opportunity to construct a traditional long-keel, round-bilge sailboat, based on a truly proven design (35 Debens were built between 1937 and 1960), with the structures simplified and intended for wood/epoxy construction.

In working through the design, I have also put together a list of all the Deben 4-tonners. As time permits, I will also be adding links to original photographs of these boats (where I have them) and news of their current status.

George
---
Home
|
8' chine sailing pram
|
8' classic sailing pram
|
10'3" gaff sailing dinghy
|
10'6" gaff sailing dinghy
|
15' half-deck yawl
15'6" 2-berth yawl
|
17'6" 3-berth yawl
|
18'6" 3-berth yawl
|
19' 2-berth sloop
|
20' 4-berth yawl
23' chine cutter
|
23' classic gaff cutter
|
26' fast sloop
|
30' fast cutter
|
67' cruising cutter
22' cat yawl
|
Extended No. 119
|
Commissioning a New Design
|
Why wood-epoxy?
|
Wood-epoxy #1
|
Wood-epoxy #2
|
Wood-epoxy #3
|
Aluminium Construction
|
Steel Construction
Woodbridge Poster
|
Rockland USA
|
Woodbridge UK
|
Whisstocks 1926-1990
Plan formats
|
Support
|
How to order
|
Study plans
|
Build plans
|
Designer
|
Kits
|
Laminating
|
Company
|
Privacy
|
Contact
Site designed, programmed and hosted by Debenriver Ltd