Whisstocks Launching Poster No. 1

Claude Whisstock started the boatyard in 1926, on a small parcel of marsh land that his father owned. by the riverside in Woodbridge, Suffolk.
By the early 1930's surprisingly large boats were being built and launched down the very steep slipway that Claude had constructed. Traditionally a yacht is launched by breaking a bottle of Champagne on the stem before the new vessel slides down the ways to taste the salt water for the first time.
Claude started a tradition, unique to the yard, of retaining the Champagne bottle tops and hanging them in his office; a tradition that continued through to the 1990's, when the yard finally ceased business. Under the bottle tops, hung a series of original photograps of boats in build and boats launching.
Now, in an unique series of high quality posters, we can bring some of these bottle tops together with their launching photographs again.
Poster No. 1 shows launchings between 1933 and 1952, where we have both a bottle and a launching photograph available. These are old photographs – they have been around for 60 to 80 years, so they are a little faded at times. The bottle tops are in surprisingly good condition with their gold foil still bright, even if the champagne-stained ribbons are somewhat discoloured.
On one level the poster shows the simple act of launching a new boat, perhaps Claude's anxiety, the everyday calmness of the boatbuilders themselves, the pride of the new owner, and the nervousness of the lady whose unenviable task it was to break the bottle.
At another level it is a fascinating snapshot of changing fashions in clothes, shoes, hair-styles and hats, and the gradual development of the yard and the riverfront in the immediate pre-war and post-war periods. Many of the boatbuilders worked at the yard before World War Two, served their country (usually in the Navy) during the War, and then returned to the yard to build boats again when the War was over.
The Poster is professionally printed on semi-gloss heavyweight paper. It is dispatched rolled in a stout cardboard tube, ready for framing if desired. The poster is available in A2 size or 16" x 20" size (see order form below).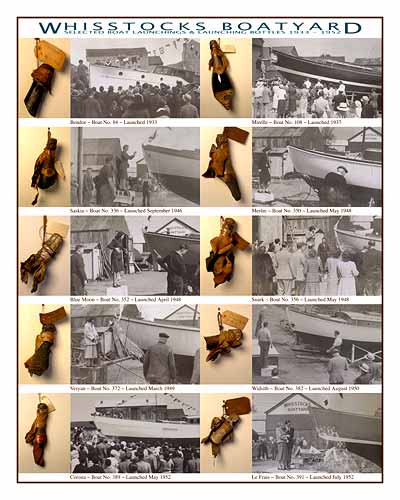 Home
|
8' chine sailing pram
|
8' classic sailing pram
|
10'3" gaff sailing dinghy
|
10'6" gaff sailing dinghy
|
15' half-deck yawl
15'6" 2-berth yawl
|
17'6" 3-berth yawl
|
18'6" 3-berth yawl
|
19' 2-berth sloop
|
20' 4-berth yawl
23' chine cutter
|
23' classic gaff cutter
|
26' fast sloop
|
30' fast cutter
|
67' cruising cutter
22' cat yawl
|
Extended No. 119
|
Commissioning a New Design
|
Why wood-epoxy?
|
Wood-epoxy #1
|
Wood-epoxy #2
|
Wood-epoxy #3
|
Aluminium Construction
|
Steel Construction
Woodbridge Poster
|
Rockland USA
|
Woodbridge UK
|
Whisstocks 1926-1990
Plan formats
|
Support
|
How to order
|
Study plans
|
Build plans
|
Designer
|
Kits
|
Laminating
|
Company
|
Privacy
|
Contact
Site designed, programmed and hosted by Debenriver Ltd