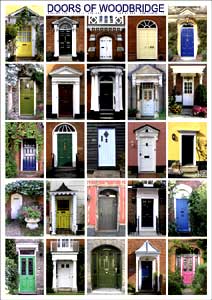 Our home town in England
is Woodbridge in Suffolk, about 75 miles north of London and our family has been in this area of England for at least the last 600 years! Woodbridge is an ancient market town nestled alongside the River Deben, about 9 miles from the sea and has been settled from Roman times, if not earlier. Whether the name comes from the God Woden or from some long lost bridge over the river is a matter of speculation. On the opposite bank of the river, on high meadows overlooking the town, is Sutton Hoo, the burial place of Anglo Saxon kings of the Wuffinga (Wolf) dynasty dating from the Sixth and Seventh Centuries AD. It was here, in 1939, that a great treasure was discovered in the grave of one of these kings, probably Raedwald, the mightiest of all the Wuffingas.
On the river and alongside the old quays, pleasure yachts have replaced the noise and bustle of a busy port and its extensive shipbuilding yards, while the market stalls still offer local produce, game, meat and wonderful fresh fish. Nowadays, the ancient streets with their shops, restaurants and pubs are busy with townspeople and tourists, while the yacht harbour (which George Whisstock was responsible for constructing in the 1960's) attracts both British and European visitors to its moorings.
Our Poster, the first in a series, is a small sampling of the amazing variety of house doors in this town. It reflects the elegance and prosperity of bygone days; at the same time it demonstrates the pride the residents of today have in their town. You don't have to live in Woodbridge or to have visited the town to appreciate the beauty of every detail. Perhaps buying this Poster will entice you to visit Woodbridge to see it for yourself!
The Poster is A2 size (420mm wide x 594mm long – 16.5" wide x 23.4" long) and is professionally printed on glossy heavyweight paper. The poster is issued in a signed, limited edition of 400. Note: this is NOT a photocopy or cheap print – it is a high quality professional product. The poster is dispatched rolled in a stout cardboard tube, ready for framing if desired.
Home
|
8' chine sailing pram
|
8' classic sailing pram
|
10'3" gaff sailing dinghy
|
10'6" gaff sailing dinghy
|
15' half-deck yawl
15'6" 2-berth yawl
|
17'6" 3-berth yawl
|
18'6" 3-berth yawl
|
19' 2-berth sloop
|
20' 4-berth yawl
23' chine cutter
|
23' classic gaff cutter
|
26' fast sloop
|
30' fast cutter
|
67' cruising cutter
22' cat yawl
|
Extended No. 119
|
Commissioning a New Design
|
Why wood-epoxy?
|
Wood-epoxy #1
|
Wood-epoxy #2
|
Wood-epoxy #3
|
Aluminium Construction
|
Steel Construction
Woodbridge Poster
|
Rockland USA
|
Woodbridge UK
|
Whisstocks 1926-1990
Plan formats
|
Support
|
How to order
|
Study plans
|
Build plans
|
Designer
|
Kits
|
Laminating
|
Company
|
Privacy
|
Contact
Site designed, programmed and hosted by Debenriver Ltd