Design 171 – Sapphire 26
26' Performance Cruiser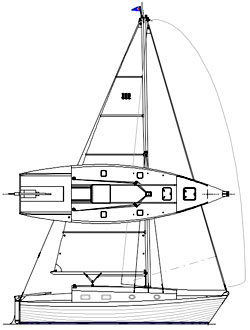 Plans Download:
Plans on CD:
Plans on Paper:
$155.00
$165.00
$875.00
Specification
LOA
8.000 m
26' 3"
LWL
7.085 m
23' 3"
Beam
2.285 m
7' 6"
Draught, bulb keel
1.500 m
4' 11"
Displacement on dwl
2000 kg
4490 lbs
Ballast
735 kg
1620 lbs
Headroom (saloon)
1.675 m
5' 6"
I
10.540 m
34' 7"
J
2.950 m
9' 8"
P
9.595 m
31' 5¾"
E
3.535 m
11' 7"
Mainsail
17.000 m²
183 ft²
100% foretriangle
15.500 m²
167 ft²
130% Genoa
20.663 m²
220 ft²
Engine (Outboard in well)
7.5 kw
10.0 hp
EU Category B - Offshore
The Sapphire 26
Performance Cruiser is a development from our very successful Design Nos. 056 and 056_02 (the Sapphire 27). She is intended for club racing and racing under IRC Class B, as well as general cruising.
She is lighter than the Sapphire 27, with less beam, a longer waterline and a deeper lead bulb keel, which gives her a classic GZ curve that is not so dependant on form stability. With a beam under 2.500m/8' and her light weight, she can be trailed home out of season relatively easily.
Construction is designed to be very straightforward and suited to CNC cut parts. Frames are designed as triple-ply sandwich, which makes them very easily assembled from CNC cut components, without any necessity to plane edge bevels, and very quick to build. The hull skin is 12mm ply lapstrake, from from CNC cut parts if wished. Similarly the majority of the other parts of the vessel such as coamings, decks, coachroof, cockpit etc., and the bulk of the interior joinery, can all be CNC cut.
We anticipate that the stem, stem knee, sternpost and stern knee will be made from solid timber rather than ply and being straight, there is no requirement for lamination – though they can be made up from several layers if wished. The hog is laminated from solid timber in place over the frames set up in the building jig. The hog can be made from vertical ply layers (which of course can be CNC cut), but we think this is actually more work than the simple full-length lamination.
Although she is designed primarily to be built from CNC cut ply parts, there is no reason why she shouldn't be built with a cold-moulded skin on laminated (or ply sandwich) frames. The cold-moulded skin would be 10mm strip planks followed by two 3mm diagonal veneers, to give a 16mm finished thickness. There is no structural glass cloth – though the hull can be lightly (200 g/m² - 6 oz) epoxy/glass sheathed if wished.
And as with all our designs that can have CNC cut components, fully dimensioned drawings of all the CNC parts are additionally provided so builders can mark them out and cut them out themselves if wished. This also allows builders, if they wish, to make some parts themselves and have others CNC cut, rather than an "all-or-nothing" situation where you either have to buy everything CNC or cut everything by hand.
A good example of what is very worthwhile to get CNC cut would be the ply sandwich frame components – it is possible of course to cut them out by hand and the data is provided for that, but they are tedious – it is probably simpler to make laminated frames in fact. But once you have the CNC cut frame parts, assembling them and making the frames is very little work indeed and can be accomplished remarkably quickly, with quite modest equipment. The frame components all have pre-cut location holes – so assembly is merely a matter of lining up the holes and slipping in short lengths of dowelling, and weighing them down on a flat surface while the epoxy cures.
Conversely, the lapstrake planks are pretty easy to mark and cut out from the data provided because the shapes are not very complicated. So while it certainly saves time to have them CNC cut, it is not such a big gain as it would be for the frame parts. So builders could quite reasonably decide to make these themselves and save the cost of CNC.
To utilize her narrower beam to the full, both on deck and below, the Sapphire 26 has a long full-width coachroof, which also simplifies construction considerably. The interior accommodation, has the same emphasis on simplicity: two good-sized quarterberths aft; a spacious saloon with comfortable settees both port and starboard; a separate toilet compartment; a simple galley; and a fo'c'sle with a single bunk, a large hanging locker and extensive sail bins.


Click image for larger dimensioned version.
On deck (see deck plan) there is a spacious cockpit, with good seating. The outboard engine sits in a well at the aft end of the cockpit. The transom-hung rudder and tiller steering again make for simplicity and provide a sensitive helm. The mast is deck-stepped, with halyards and control lines brought aft to winches at the aft end of the coachroof. The rig is very straightforward, with a fully battened main and mid-boom sheeting. The genoa and other headsails should be able to sheet to the aft end of the coachroof – additional winches to those shown may be required; the spinnaker sheets and guys should also be able to sheet forward to the coachroof.
The detailed and accurate plans
together with true step-by-step building instructions carry builders, professional and non-professional alike, through the building process simply and easily. And for larger boats particularly, they allow a managed build to be carried out very successfully. Plans are fully dimensioned; no scaling or lofting is required. The plans and instructions are practical, clear and detailed, containing everything required to build and complete the vessel. Where CNC cutting files are included, or available, they can be sent directly to a CNC facility as required. Professional technical support throughout the build, is available by email, via the forum or by regular mail.
More plan info
…
Home
|
8' chine sailing pram
|
8' classic sailing pram
|
10'3" gaff sailing dinghy
|
10'6" gaff sailing dinghy
|
15' half-deck yawl
15'6" 2-berth yawl
|
17'6" 3-berth yawl
|
18'6" 3-berth yawl
|
19' 2-berth sloop
|
20' 4-berth yawl
23' chine cutter
|
23' classic gaff cutter
|
26' fast sloop
|
30' fast cutter
|
67' cruising cutter
22' cat yawl
|
Extended No. 119
|
Commissioning a New Design
|
Why wood-epoxy?
|
Wood-epoxy #1
|
Wood-epoxy #2
|
Wood-epoxy #3
|
Aluminium Construction
|
Steel Construction
Woodbridge Poster
|
Rockland USA
|
Woodbridge UK
|
Whisstocks 1926-1990
Plan formats
|
Support
|
How to order
|
Study plans
|
Build plans
|
Designer
|
Kits
|
Laminating
|
Company
|
Privacy
|
Contact
Site designed, programmed and hosted by Debenriver Ltd