Design 056_02 – Sapphire 27
27' Fast Cruising Sloop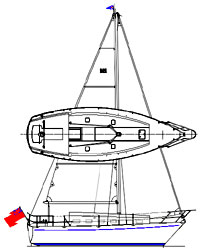 Plans Download:
Plans on CD:
Plans on Paper:
$155.00
$165.00
$875.00
Specification
LOA
8.210 m
26'11½"
LWL
6.420 m
21' 0¾"
Beam
2.850 m
9' 4¼"
Draught, standard keel
1.300 m
4' 3¼"
Displacement on dwl
2575 kg
5677 lbs
Ballast
1050 kg
2315 lbs
Headroom (saloon)
1.950 m
6' 4¾"
Headroom (fo'c'sle)
1.825 m
5' 11¾"
I
11.250 m
36' 11"
J
3.295 m
10' 9¾"
P
9.595 m
31' 5¾"
E
3.725 m
12' 2¾"
Mainsail
17.880 m²
192 ft²
100% foretriangle
17.440 m²
188 ft²
135% Furling Genoa
23.800 m²
256 ft²
Engine (Volvo D1-20)
13.8 kw
18.8 hp
EU Category B - Offshore
Our Sapphire Class
features a range of robust, classically styled, modern fast cruising yachts, ideal for comfortable family sailing and more extended cruising. Construction throughout is strong and tough, reasonably lightweight and eminently practical.
The Sapphire 27 is developed from our very successful Design No. 056, to give a more traditional cruising oriented layout both down below and on deck. Modifications include a little more freeboard, better headroom throughout, a simpler, more economical cast iron ballast keel, and a very straightforward masthead rig.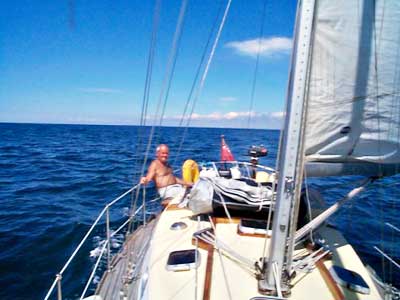 A relaxed sail off the Atlantic coast of Spain. The boat has many thousands of sea miles under her keel.
Construction is cold-moulded wood epoxy on laminated frames; ply sandwich frames are an alternative. She could also be built with a ply/epoxy lapstrake hull skin. A strip-planked hull with bi-axial glass cloth is also a valid building method.
The original Design 056 was cold-moulded on single-layer ply frames and there is no reason why the Sapphire 27 can't be built the same way. The disadvantage of single-layer ply frames is however that, to be economical of material and space (because they are deeper), the frames tend to become somewhat intimately tied up with the interior layout – whereas with laminated frames and ply sandwich frames, the interior layout can be largely independent.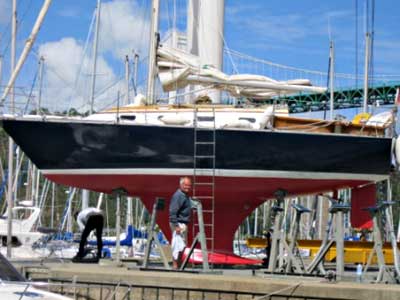 The standard keel is a cast iron fin. It is strong and easy to engineer and gives excellent performance and stability. The photo (left) shows the original Design 056 keel which consisted of a stainless steel keel envelope (which doubled as a fuel tank) with a lead bulb – highly effective but expensive and complicated!
Other keel possibilities include longer shallower lead keel with an integral centreboard (which would be wholly contained beneath the cabin sole); and a keel of similar proportions to the standard cast iron keel, but with a deeper deadwood component and a lead ballast keel.
The accommodation as drawn is arranged as follows:
A private fo'c'sle with twin V-berths. There is a hanging locker to port and drawers and lockers beneath the bunks; there can also be stowage shelves or nets above the bunks if wished. The V-berths can be converted to a double with an infill piece. There is good standing headroom (about 1825mm - 5' 11¾").
The WC
and shower is to starboard, again with good headroom (about 1850mm – 6' 1"). The drawings shows a standard marine toilet, which can be connected to a waste tank – but most types of marine toilet can be accommodated. There are plenty of lockers and a nice sink unit.
Opposite the WC compartment, to port, there is a small navigation area and table wit a lift-up lid to chart storage; there is a cupboard beneath the table and lockers outboard of it.
The saloon settee runs aft from the chart table and also utilizes the forward end of the port quarterberth. There are lockers beneath the seats and outboard of the backrests. A generous drop-leaf table gives plenty of dining space and, with the leaves down, provides a narrow fiddled table. The settee can be configured as a fifth berth if wished, by omitting the cupboard under the chart table.


Click image for larger dimensioned version.
The galley to starboard is L-shaped with generous locker space and counter top; the gimballed cooker shown is a two-burner, grill and oven model.
The accommodation is completed with a full-size quarterberth both to port and starboard. There are lockers and shelves outboard of the berths.
If larger cockpit lockers are required, then the port quarterberth could be omitted and perhaps an oilskin locker added immediately aft of the settee. In this scenario, the L-shaped settee is of sufficient length for a berth, without sacrificing the cupboard under the chart table. And, of course there are numerous other interior layout options that can be explored to suit personal requirements and preferences.
The engine shown on the drawings is a two-cylinder Volvo D1-20 conventionally arranged with a shaft drive. This engine is also available with a sail drive, which does have some installation advantages. Several other engines are also suitable. The fuel tank is astern of the engine under the cockpit sole.
On deck there is a generous self-draining cockpit, with comfortable seating for crew and guests. Wheel steering from a dedicated aft section of the cockpit keeps the main part of the cockpit clear; the helmsman has convenient control of the main sheet and the genoa sheets – but they are also easily in reach of a crew member in the main part of the cockpit.
The rig has deliberately been kept very simple with a straightforward fully battened, slab-reefing main and a masthead roller-furling genoa, which we feel gives the best all-round performance and convenience for cruising. This allows the simplicity and security of a standing backstay. Control lines and halyards are brought aft to the cockpit. A cutter rig would also work well on this boat.
One could consider more racing oriented rigs – say a square-topped main and a ⅞ foretriangle – if wished. The original Design 056 is ⅞ rigged – with a carbon-fibre retractable bowsprit for the spinnaker and she is a very fast boat!
Click here to look at the free study plans and a list of the plans and instructions that are currently available. Two of these boats are in build at the moment (December 2017).
100+ plans and 7 or more books of instructions will make up the portfolio for this design. The plans will contain all the information necessary to build and complete the boat, make all the components (like bow and stern pulpit, stanchion bases etc.), furniture units and parts, together with the necessary systems (wire-by-wire electrical system, pipe-by-pipe plumbing system etc.), equipment and fittings. The instructions lead you through the build step by step and also deal with launching, rigging and sail trials.
The detailed and accurate plans
together with true step-by-step building instructions carry builders, professional and non-professional alike, through the building process simply and easily. And for larger boats particularly, they allow a managed build to be carried out very successfully. Plans are fully dimensioned; no scaling or lofting is required. The plans and instructions are practical, clear and detailed, containing everything required to build and complete the vessel. Where CNC cutting files are included, or available, they can be sent directly to a CNC facility as required. Professional technical support throughout the build, is available by email, via the forum or by regular mail.
More plan info
…
Home
|
8' chine sailing pram
|
8' classic sailing pram
|
10'3" gaff sailing dinghy
|
10'6" gaff sailing dinghy
|
15' half-deck yawl
15'6" 2-berth yawl
|
17'6" 3-berth yawl
|
18'6" 3-berth yawl
|
19' 2-berth sloop
|
20' 4-berth yawl
23' chine cutter
|
23' classic gaff cutter
|
26' fast sloop
|
30' fast cutter
|
67' cruising cutter
22' cat yawl
|
Extended No. 119
|
Commissioning a New Design
|
Why wood-epoxy?
|
Wood-epoxy #1
|
Wood-epoxy #2
|
Wood-epoxy #3
|
Aluminium Construction
|
Steel Construction
Woodbridge Poster
|
Rockland USA
|
Woodbridge UK
|
Whisstocks 1926-1990
Plan formats
|
Support
|
How to order
|
Study plans
|
Build plans
|
Designer
|
Kits
|
Laminating
|
Company
|
Privacy
|
Contact
Site designed, programmed and hosted by Debenriver Ltd