Design 165
5.910m, (19'4") 3-Berth Cutter
Doghouse Version
Click for:
Saloon Version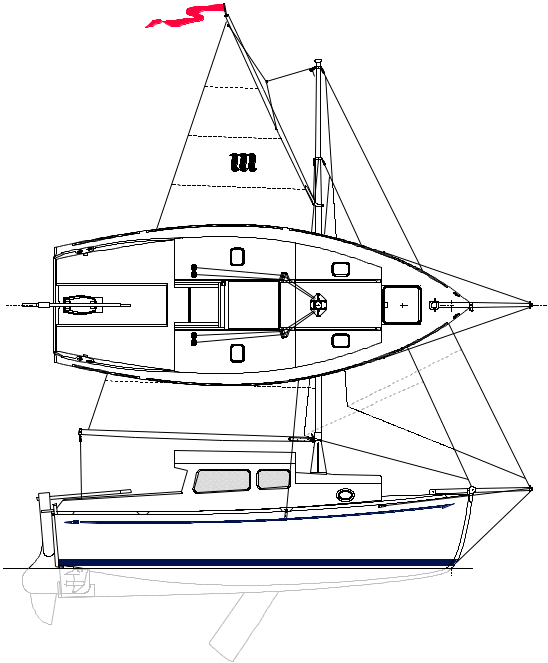 Click to enlarge Image
Plans Download:
Plans on CD:
Plans on Paper:
$65.00
$75.00
$300.00
Specification
LOA inc. bowsprit
6.670m
21'10"
LoD
5.910m
19'4"
LWL
5.532m
18'2"
Beam
2.275m
7'6"
Draft, board up
0.400m
1'4"
Draft, board down
1.300 m
4'3"
Displacement on dwl
900kg
1,985 lbs
Ballast
300kg
660 lbs
Trailer weight (approx)
700kg
1,545 lbs
Main area
11.337 sq m
122.03 sq ft
Jib area
5.710 sq m
61.46 sq ft
Staysail area
4.352 sq m
57.60 sq ft
100% FT area
8.679 sq m
93.42 sq ft
Headroom (doghouse)
1.820m
6'0"
Headroom (saloon)
1.465m
4'10"
Outboard (in well)
3-4.5 kw
4-6 hp
EU Category C - Inshore
Design 165
started life as Design 119w – a custom stretched version of our very successful Design No. 119, which we are now developing as an entirely separate design, No. 165.
Here is a new slide show of one of the first Design 165's in build. Clicking on any of the images will also take you to the slide show.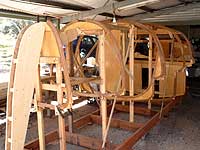 Two versions of the boat will be available: a standard saloon version and a doghouse version giving full headroom in the galley, the toilet compartment, and the main saloon. Plans for both versions will be included in the design package.
The boat can be built on laminated frames or ply sandwich frames, with either a cold-moulded skin or a ply lapstrake skin; in both cases using wood epoxy techniques. Files for CNC-cut parts will also be available.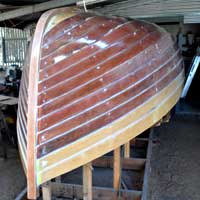 The accommodation has three full length berths: v-berths forward which can easily convert to a double with an infill, and a comfortable quarterberth aft. The port v-berth has a small settee unit aft of it to provide extra seating in the saloon. The galley is a good size, with a 2-burner-&-grill stove, sink, and good stowage. The WC compartment has a full-size marine toilet and a small washbasin, with locker space; astern of the toilet there is a good hanging locker. A wet locker is located astern of the the companionway. The fresh water tank, aft under the cockpit sole, holds about 70 litres.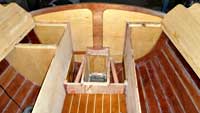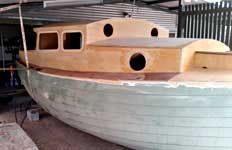 The comfortable full-length cockpit is 600mm wide and 375mm deep with high coamings and deep seats. The outboard motor sits snugly in a well at the aft end. On the doghouse version, the cockpit coamings twist out to about 10º to give added comfort. And the doghouse roof overhangs the cockpit by 200mm (8") to give extra protection and a snug place to sit with your back to the main bulkhead.
The rig is a modern high-peaked gaff cutter or gaff sloop. Control lines, including single-line reefing on the main, can all be brought aft from the mast to the cockpit on both versions. A gaff yawl, with a lugsail mizzen will also be available.
Building on a proven design this boat provides a very robust small cruising boat with an excellent accommodation, good sea-keeping qualities and performance under sail and power. She is easily trailed, and launched and rigged; and easily recovered. The doghouse version in particular makes a perfect small live-aboard cruiser as well as a delightful sailboat for weekends and holidays.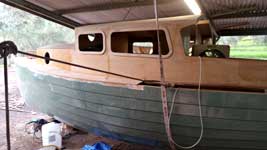 The detailed and accurate plans together with true step-by-step building instructions carry builders, professional and non-professional alike, through the building process simply and easily. And for larger boats particularly, they allow a managed build to be carried out very successfully. Plans are fully dimensioned; no scaling or lofting is required. The plans and instructions are practical, clear and detailed, containing everything required to build and complete the vessel. Where CNC cutting files are included, or available, they can be sent directly to a CNC facility as required. Professional technical support throughout the build, is available by email, via the forum or by regular mail. More plan info …
As of October 2015, seven of these boats are in build around the world and the plans are now well advanced, keeping pace with the builders. Further plans are being issued regularly. The CNC cutting files are also all available (for the doghouse version) and one of these has been cut as a kit.
Click here to look at the free study plans, sample instructions and specification for this design, plus a full list of the plans and instructions that are currently available.
Home
|
8' chine sailing pram
|
8' classic sailing pram
|
10'3" gaff sailing dinghy
|
10'6" gaff sailing dinghy
|
15' half-deck yawl
15'6" 2-berth yawl
|
17'6" 3-berth yawl
|
18'6" 3-berth yawl
|
19' 2-berth sloop
|
20' 4-berth yawl
23' chine cutter
|
23' classic gaff cutter
|
26' fast sloop
|
30' fast cutter
|
67' cruising cutter
22' cat yawl
|
Extended No. 119
|
Commissioning a New Design
|
Why wood-epoxy?
|
Wood-epoxy #1
|
Wood-epoxy #2
|
Wood-epoxy #3
|
Aluminium Construction
|
Steel Construction
Woodbridge Poster
|
Rockland USA
|
Woodbridge UK
|
Whisstocks 1926-1990
Plan formats
|
Support
|
How to order
|
Study plans
|
Build plans
|
Designer
|
Kits
|
Laminating
|
Company
|
Privacy
|
Contact
Site designed, programmed and hosted by Debenriver Ltd