Design 44
67' Cruising Cutter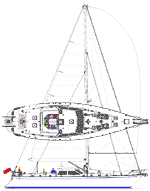 | | |
| --- | --- |
| Plans start from1: | $150.00 |
Specification (steel version – 100% load)
LOA
20.480 m
67' 2"
LoD
18.890 m
62' 0" ft
LWL
17.922 m
58' 10"
Beam
5.510 m
18' 1"
Draught
2.370 m
7' 9"
Displacement
44.540 t
100,400 lbs
Ballast
14.500 t
31,970 lbs
Fresh Water
2500 l
660 US gals
Fuel
1600 l
423 US gals
Waste
400 l
106 US gals
Mainsail (fully battened)
96.000 sq m
1033.34 sq ft
130% Genoa
122.336 sq m
1316.81 sq ft
Staysail
35.530 sq m
380.00 sq ft
100% Foretriangle
94.104 sq m
1012.93 sq ft
Engine
90 Kw min.
120 bhp min.
Generator
15 Kva
15 Kva
EU Category A - Ocean
More specification info ...
This yacht
was originally designed for construction in aluminium alloy, for Caribbean and Mediterranean Charter use and several of these were built, all classed 100A1 at Lloyds.

In addition to the pictures on the Home page, more photos of the original charter version can be seen
here
.
Over the years these have gradually come out of charter into private ownership. They are formidable sailing vessels, fast (one averaging just over 11 knots on an atlantic crossing), comfortable and sea kindly.
Later we produced a Sail Training version for construction in steel. The construction of the first of these was, in itself, a training project. For this boat we developed a diagonal plating system, which proved to be very successful and easy to plate without specialized rolling and wheeling equipment. It produced a very fair hull, in class 100A1 with Lloyds. The General Arrangement sheet shown (left) shows a private owner version of this, which has become the "standard" layout for this design.
She could also with great advantage, be built in wood-epoxy, though we haven't as yet drawn up plans for this.
The exceptionally detailed and accurate modular design has proved itself invaluable on a project of this size and complexity, whether it is a professional yard build, or a managed build.
A managed build generally sources the various components of the vessel and manages the whole assembly project. So, the hull, deck and superstructure can be sourced from a hull builder; furniture units from one or more cabinet makers; and so on. Modular design means that as far as possible each unit or component is complete in itself and can thus be built in isolation, without reference to the boat itself.
In a larger project
, and because of differing skill and knowledge levels, we recognize that not all the plans and instuctions may be required.
To accommodate this we have broken the design down into Design Packs, so builders can choose which they need. This also allows builders to stage the purchase of plans as the project proceeds.
There are four current versions of this design, two based on the original 18.300m (60') aluminium alloy hull, and two based on the lengthened 18.890 (62') steel hull. The plans currently available for download are for the longer hull constructed in steel. Clicking the links below, opens a PDF plan in a new window.
View the Original Charter Version General Arrangement. This is the original 60' hull, with a long coachroof.
View the Original Private Owner Version General Arrangement. This is the original 60' hull, with a long coachroof.
View the Sail Training Version General Arrangement. This is the lengthened 62' hull, with a deck saloon.
View the Private Owner Version General Arrangement. This is the lengthened 62' hull, with a deck saloon.
The Private Owner accommodation has arrangements for ten or eleven in five separate cabins. The very spacious owners' suite has two double wardrobes and a range of cupboards and lockers. The en-suite toilet compartment contains a separate shower.
The principal guest cabin has a double berth, with a single above and an en-suite shower and toilet compartment. There is a twin cabin to port and two twin cabins forward, all generously laid out with plenty of storage, wardrobes, etc. They share a large toilet and shower compartment, which also serves as a toilet for visitors.
The saloon has a dining area to starboard and a very large sofa to port. The spacious galley is to starboard, convenient to the dining area. The laundry is centrally placed under the main cockpit, and leads on into the engine room beneath the deck saloon sole.
The vessel is air conditioned throughout. An 800gpd desalinator is provided and an hydraulic retractable bow thruster is fitted. The rig shown is slab reefing on the main, but can be in-mast or in-boom furling if required, and roller furling on the two headsails. Hydraulic or electric winches and twin electric windlasses complete the push-button control systems.
This is a yacht intended for world-wide cruising in great comfort and with short handed or family crews. A sail-training version layout is very similar to that shown but with the owner's suite being replaced by two twin-berth cabins.
The list of plans varies according to the structural material and the layout chosen. Usually there are some 350 plans and about 10 books of instructions, covering every aspect of the build, completion and sea trials of the vessel. As with all our designs, the plans include all the information to build and finish the boat in comprehensive detail and building instructions. The fact that six of these boats have been built to date is a testament to the strength of the plans and instructions, because by any judgement, this is a really major project to undertake.
We welcome enquiries about this design and its capabilities because a vessel of this size and complexity can never really be "standard".
Click the appropriate link in the Order Section below to see the list of plans that come with the design package and to view free study plans.
1
Plans are for construction in steel.
Home
|
8' chine sailing pram
|
8' classic sailing pram
|
10'3" gaff sailing dinghy
|
10'6" gaff sailing dinghy
|
15' half-deck yawl
15'6" 2-berth yawl
|
17'6" 3-berth yawl
|
18'6" 3-berth yawl
|
19' 2-berth sloop
|
20' 4-berth yawl
23' chine cutter
|
23' classic gaff cutter
|
26' fast sloop
|
30' fast cutter
|
67' cruising cutter
22' cat yawl
|
Extended No. 119
|
Commissioning a New Design
|
Why wood-epoxy?
|
Wood-epoxy #1
|
Wood-epoxy #2
|
Wood-epoxy #3
|
Aluminium Construction
|
Steel Construction
Woodbridge Poster
|
Rockland USA
|
Woodbridge UK
|
Whisstocks 1926-1990
Plan formats
|
Support
|
How to order
|
Study plans
|
Build plans
|
Designer
|
Kits
|
Laminating
|
Company
|
Privacy
|
Contact
Site designed, programmed and hosted by Debenriver Ltd