Specification
LOA (deck)
7.075 m
23.21 ft
LWL
5.935 m
19.47 ft
Beam
2.365 m
7.76 ft
Draught
1.065 m
3.49 ft
Headroom
1.700 m
5.58 ft
Displacement
3.500 t
3.44 tons (7716 lbs)
Ballast
1.200 t
1.18 tons (2645 lbs)
Mainsail
19.578 sq m
210.74 sq ft
Staysail
5.560 sq m
59.85 sq ft
Jib
6.244 sq m
67.00 sq ft
Main Topsail
4.517 sq m
48.62 sq ft
Jib Topsail
3.904 sq m
42.02 sq ft
Engine
6.710 kw
9.00 bhp
EU Category B - Offshore
This boat
is a long-keeled traditional cruising sailboat, based on the Deben 4 and 6 tonners. The 4-tonners were originally designed for Whisstocks by William Blake 1936. My father, Claude, designed the 6-tonner in a similar style, in 1949. Over 35 4-tonners were built, and three of the 6-tonners, which were reckoned to be very fast and sea-kindly sailboats.
The Deben 5-Tonner is designed in the same spirit as the original Deben 4-Tonner and 6-Tonner to provide robust "little-ship" performance, with traditional carvel construction on steam-bent timbers (frames).
The accommodation comprises a traditional vee-berth fo'c'sle, with good lockers. An infill piece can be added to make a double for harbour and estuary use. The saloon has two comfortable settee berths, one of which extends aft as a quarterberth – perfect for off-watch sleeping on passage. There is a nice self-contained WC compartment opposite the galley. An oilskin locker is located behind the companionway steps. There is plenty of locker space.
She has a full-length cast iron ballast keel bolted to the backbone structure. Her rig is a modern style gaff topsail cutter, but she could be plain gaff rigged (no topsail) as well. The full size cockpit is watertight and self-draining, well protected and comfortable.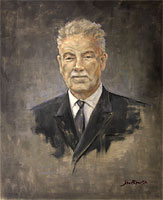 In memory of my father, who commissioned the original Deben 4-Tonner, and designed the 6-Tonner, and whose skill and integrity made these boats what they are, this design is available for free. That is you can download the design for free and build from it. And provided you acknowledge the source and design copyright, you can freely distribute the design.
Support is available through the Forum, where we will do our best to answer any queries in a timely manner. We don't offer email or telephone support for this design.
To download the design as it becomes available, simply register and the design will appear in your design portfolio. You don't need to make any purchase. Existing members should just login and the design will have been added to their design portfolio.
A larger study plan of this design is available here. It will open in a new window.
More details of the portrait are available here.
Home
|
8' chine sailing pram
|
8' classic sailing pram
|
10'3" gaff sailing dinghy
|
10'6" gaff sailing dinghy
|
15' half-deck yawl
15'6" 2-berth yawl
|
17'6" 3-berth yawl
|
18'6" 3-berth yawl
|
19' 2-berth sloop
|
20' 4-berth yawl
23' chine cutter
|
23' classic gaff cutter
|
26' fast sloop
|
30' fast cutter
|
67' cruising cutter
22' cat yawl
|
Extended No. 119
|
Commissioning a New Design
|
Why wood-epoxy?
|
Wood-epoxy #1
|
Wood-epoxy #2
|
Wood-epoxy #3
|
Aluminium Construction
|
Steel Construction
Woodbridge Poster
|
Rockland USA
|
Woodbridge UK
|
Whisstocks 1926-1990
Plan formats
|
Support
|
How to order
|
Study plans
|
Build plans
|
Designer
|
Kits
|
Laminating
|
Company
|
Privacy
|
Contact
Site designed, programmed and hosted by Debenriver Ltd