Design 012
23' Cruising Cutter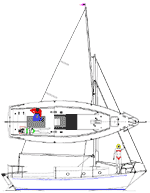 Plans Download:
Plans on CD:
Plans on Paper:
$70.00
$75.00
$600.00
Specification
LOA (excl. bowsprit)
7.020 m
23.03 ft
LWL
5.800 m
19.03 ft
Beam
2.318 m
7.60 ft
Draught, board up
0.600 m
1.97 ft
Draught, board down
1.320 m
4.33 ft
Displacement on dwl
1.730 t
1.70 tons
Ballast
0.718 t
0.70 tons
Main area
17.672 sq m
190.22 sq ft
100% foretriangle
8.634 sq m
93.94 sq ft
Staysail
3.783 sq m
40.72 sq ft
Jib
5.429 sq m
58.44 sq ft
Headroom
1.490 m
4' 11"
Engine
6 - 9 kw
8 - 12 bhp
EU Category B - Offshore
Design 012
is a very straightforward boat to build. The single chine hull is robustly constructed from 12mm plywood on simple 12mm plywood frames, all bonded and coated under the WEST™ system for strength, durability and low maintenance. Single chine tends to become less attractive on large vessels, but at this size it is one of the best options for simplicity, strength and performance.
The deck plan is logical and uncluttered, with controls mostly led back to the cockpit. The cockpit itself is quite spacious, with full-length comfortable seating. The self-draining cockpit well is of modest size as befits a small sea-going yacht. The large lazarette is accessed by a watertight hatch in the cockpit aft seat; and there is another watertight hatch in the bridgedeck to give additional access to the engine.
It really is important to keep the interior of the boat dry in heavy weather. The main hatch and companionway are of seagoing watertight construction with the hatch itself sliding into a hatch-box so that any green water landing on the coachroof top can't force its way below. As with many of our designs we use integrated external coachroof runners to provide additional strength to the coachroof as well as forming the hatch-box sides and the external double coaming for the hatch itself.
The underwater body has a fairly traditional long, shallow draught, straight keel, incorporationg the iron ballast keel and timber deadwoods, arranged to give an efficient hydrodynamic profile. The lightly ballasted wood/epoxy centreboard gives additional lift for improved upwind performance. The centreboard uphaul and downhaul ropes exit into the cockpit through the aft face of the bridgedeck.
The accommodation
is simple and practical, providing three full length berths with good sitting headroom in the saloon. There is a separate toilet compartment with a washbasin and lockers. Forward there are sail bins and the cable locker. The galley has a sink and gimballed cooker, with useful lockers beneath and outboard.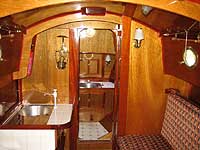 The inboard diesel drives a three-bladed propeller to give excellent performance under power. A two-bladed propeller or a folding propeller could of course be fitted if required. The engine sits neatly under the bridgedeck and is easily accessible for servicing.
She has a cutter headed sliding gunter rig – an efficient rig that is easy to set and a joy to sail. This, together with the tabernacle stepped mast makes raising and lowering the mast and setting up the rigging ready to sail very straightforward and quick. The high-peaked gunter mainsail also catches the lighter airs in inland waterways and estuaries.
View photos of this design.
The detailed and accurate plans together with true step-by-step building instructions carry builders, professional and non-professional alike, through the building process simply and easily. And for larger boats particularly, they allow a managed build to be carried out very successfully. Plans are fully dimensioned; no scaling or lofting is required. The plans and instructions are practical, clear and detailed, containing everything required to build and complete the vessel. Where CNC cutting files are included, or available, they can be sent directly to a CNC facility as required. Professional technical support throughout the build, is available by email, via the forum or by regular mail. More plan info …
Click here to look at the free study plans, sample instructions and specification for this design, plus a full list of the plans and instructions that come with the design package.
Home
|
8' chine sailing pram
|
8' classic sailing pram
|
10'3" gaff sailing dinghy
|
10'6" gaff sailing dinghy
|
15' half-deck yawl
15'6" 2-berth yawl
|
17'6" 3-berth yawl
|
18'6" 3-berth yawl
|
19' 2-berth sloop
|
20' 4-berth yawl
23' chine cutter
|
23' classic gaff cutter
|
26' fast sloop
|
30' fast cutter
|
67' cruising cutter
22' cat yawl
|
Extended No. 119
|
Commissioning a New Design
|
Why wood-epoxy?
|
Wood-epoxy #1
|
Wood-epoxy #2
|
Wood-epoxy #3
|
Aluminium Construction
|
Steel Construction
Woodbridge Poster
|
Rockland USA
|
Woodbridge UK
|
Whisstocks 1926-1990
Plan formats
|
Support
|
How to order
|
Study plans
|
Build plans
|
Designer
|
Kits
|
Laminating
|
Company
|
Privacy
|
Contact
Site designed, programmed and hosted by Debenriver Ltd