Design 123
20'0" 3 or 4-Berth Yawl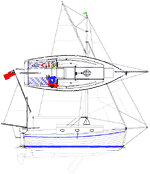 Plans Download:
Plans on CD:
Plans on Paper:
$45.00
$50.00
$255.00
Specification
LOA exc. bowsprit
6.090 m
19.98 ft
LWL
5.770 m
18.94 ft
Beam
2.100 m
6.90 ft
Draught, board up
0.600 m
1.97 ft
Draught, board down
1.340 m
4.40 ft
Displacement on dwl
1.452 t
1.42 tons
Ballast
0.518 t
0.51 tons
Main area
12.000 sq m
129.17 sq ft
Mizzen area
2.258 sq m
24.31 sq ft
Staysail
5.202 sq m
55.99 sq ft
Jib
6.129 sq m
65.97 sq ft
Headroom
1.500 m
59 ins
Outboard (in well)
4.5-7.5 kw
6-10 hp
Engine
11 max kw
15 max hp
EU Category B - Offshore
Design 123
, at 20' is the largest of our Pocket Cruisers. As with all of these boats, she is a roomy for her size, and is a robust and sea-kindly sail boat, with an excellent cruising accommodation. The boat is built using the most modern of materials – WEST™ system boat-building epoxies.
As with many of our designs she is built on laminated ring frames (six in this case) and a laminated backbone. I often see comments that laminating is difficult and time consuming but this is not really the case. Laminated ring frames, in particular, offer an elegant, visually attractive and time-saving construction system. When you are building a boat, you have to consider the job as a whole. Just getting the hull built as fast as possible is not really very useful if you make yourself a lot of extra work in the process. Read more …
The hull skin can be epoxy ply lapstrake as shown here or cold-moulded wood-epoxy. Both skin types give a strong, rigid and relatively lightweight, long-lasting low-maintenance structure.
Now we are getting larger, several accommodation layouts can be considered. We offer two as part of the standard plans package, although several other variations have been built:
Four-berth. This traditional style cruising accommodation has two quarter berths aft and two settee berths in the saloon. The separate WC compartment is in the traditional spot forward, with the foot of the settee berths extending into it. The galley units, comprising a sink unit and a cooker unit, both with stowage beneath, are locaed to port and starboard, between the settee berths and the quarter berths. All in all, an excellent sea-going accommodation – the quarterberths making the very best off-watch sea berths. View the four-berth accommodation (pdf document).
Three-berth. This modern style accommodation has a great full-size double berth forward and a really comfortable L-shaped settee berth to port in the saloon. The separate WC compartment to starboard is large for the size of the boat and can have a shower if required and a fold-down basin in the locker outboard. The L-shaped galley aft houses a sink and cooker, with plenty of locker space below and in the corner locker aft. There is a hanging locker aft of the settee berth. Because there are no quarter berths, the cockpit locker stowage on this layout is substantial. While a double forward is not necessarily the most comfortable sea-going berth, its extra comfort in harbour is really worthwhile. And the settee berth, fitted with a lee cloth does make a very good sea-berth, so you can have the best of both worlds. View the three-berth accommodation (pdf document).
Whichever layout you choose, the furniture units are stylish and practical. Everything is properly sized and proportioned and carefully laid out to maximize the usage of the available space. On this boat, the centreboard is completely beneath the cabin sole, so there is considerably more freedom than in the smaller Pocket Cruisers.
The cockpit is roomy, well-protected and comfortable; and long enough for two additional full-length berths with a tent over the boom if wished, giving extra camping accommodation if wished.
An Inboard Diesel Engine is standard in this design, located snugly beneath the bridgedeck. An outboard engine arranged in a well in the cockpit like those on the smaller boats in this range can also be arranged – and this gives an excellent performance under power. There are differences in the construction between the two formats, so this does need to be decided early on.
We feel that this boat is getting too large to trail, launch and recover for the odd weekend sail. So we class her as trailerable, rather than a trailer-sailer: she is best kept afloat for the season, but she is easy to trail home for laying up. Like all the Pocket Cruisers, she has an external lead ballast keel to give excellent stability and sparkling performance under a wide variety of conditions and sail combinations.
The detailed and accurate plans together with true step-by-step building instructions carry builders, professional and non-professional alike, through the building process simply and easily. And for larger boats particularly, they allow a managed build to be carried out very successfully. Plans are fully dimensioned; no scaling or lofting is required. The plans and instructions are practical, clear and detailed, containing everything required to build and complete the vessel. Where CNC cutting files are included, or available, they can be sent directly to a CNC facility as required. Professional technical support throughout the build, is available by email, via the forum or by regular mail. More plan info …
Click here to look at the free study plans, sample instructions and specification for this design, plus a full list of the plans and instructions that come with the design package.
Home
|
8' chine sailing pram
|
8' classic sailing pram
|
10'3" gaff sailing dinghy
|
10'6" gaff sailing dinghy
|
15' half-deck yawl
15'6" 2-berth yawl
|
17'6" 3-berth yawl
|
18'6" 3-berth yawl
|
19' 2-berth sloop
|
20' 4-berth yawl
23' chine cutter
|
23' classic gaff cutter
|
26' fast sloop
|
30' fast cutter
|
67' cruising cutter
22' cat yawl
|
Extended No. 119
|
Commissioning a New Design
|
Why wood-epoxy?
|
Wood-epoxy #1
|
Wood-epoxy #2
|
Wood-epoxy #3
|
Aluminium Construction
|
Steel Construction
Woodbridge Poster
|
Rockland USA
|
Woodbridge UK
|
Whisstocks 1926-1990
Plan formats
|
Support
|
How to order
|
Study plans
|
Build plans
|
Designer
|
Kits
|
Laminating
|
Company
|
Privacy
|
Contact
Site designed, programmed and hosted by Debenriver Ltd