Design 074
19'0" 2-Berth Sloop Rig Day-Sailer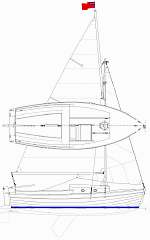 Plans Download:
Plans on CD:
Plans on Paper:
$40.00
$45.00
$175.00
Specification
LOA
5.765 m
18.96 ft
LWL
5.385 m
17.67 ft
Beam
2.020 m
6.63 ft
Draught, board up
0.300 m
0.98 ft
Draught, board down
1.320 m
4.33 ft
Displacement on dwl
0.823 t
0.806 tons
Ballast (inc centreboard)
0.260 t
0.25 tons
Main area
12.618 sq m
135.82 sq ft
Genoa area
7.427 sq m
79.94 sq ft
Headroom
1.415 m
56 ins
Outboard (in well)
4.5-7.5 kw
6-10 hp
EU Category C - Inshore
News! News! News!

New cockpit design. More info …

Pre-cut ply parts. More info …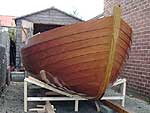 Design 074
was originally designed and built essentially as a large, unballasted day boat, with a simple cuddy forward: easy to trail, launch and set up the rig – and great to sail.
However various builders requested plans for an extended coachroof and a more extensive accommodation. Over time, we have made quite a few modifications to suit these requirements, to the point where there were so many variations that it became difficult to issue a coherent set of plans, let alone make them available on the web for download. Other changes were to comply with new regulations as they came along – the principal one of these was to raise the cockpit sole and make it watertight and self-draining. We have also added internal ballast.
Now we are taking the opportunity to bring the various changes together and update the design so as to be more coherent and more in line with builders' requirements, whilst retaining the ease of launching and excellent sailing performance.
The updated plans are still based on plywood frames, as several potential builders have made it clear that this is their preference.
Personally, I prefer rather fewer laminated frames, and we will be adding these to the design portfolio, so builders can choose either method. With the laminated frame format, the interior layout is more easily changed – for example we can do away with the mast post so that the berths can easily convert to a real double.
Accommodation is, as mentioned above, two full length comfortable berths forward. There is good stowage beneath the berths, accessed by lifting the mattress. Aft of the berths, to port, there is quite a civilized little galley with space for a sink and cook stove, with lockers beneath. Aft of the galley unit there is a decent locker under the bridgedeck.

To starboard, aft of the berths, we have a dresser unit with stowage; and then aft of that a full height locker. The area under the bridgedeck can be a wet locker as shown. The marine toilet sits immediately below the hatch, with a lid over it, forming a step down.
The self-draining cockpit remains, as befits a day boat, spacious and wide. The seat fronts are set well back under the seat tops, which gives really good foot-room in the cockpit, but doesn't allow us to use the space outboard for stowage – which seems a shame. We will be offering an alternative design, with the fronts further inboard, so we can have locker lids in the cockpit seat tops. The inboard edges of the seats will stay in the same place, so the actual room at knee level will remain the same.
With some modification to the aft end structures, it is possible to have an outboard mounted in an outboard well in the cockpit and these plans are now included. The major change is to add a skeg which slots through the hog and provides location for the lower rudder hangings. The rudder design is a little different and the lifting blade is smaller. Take a look at the new General Arrangement Plan (opens a PDF document in a new window).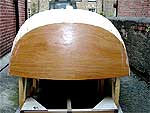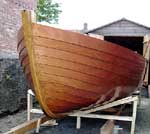 We were fortunate to receive some photos of a boat currently in build (October 2007). Click the photos to enlarge. This boat is being built from plywood kit parts cut and supplied by Jordan Boats. We can now supply DXF file packs for both flat and curved plywood parts, which builders can send to a local CNC and/or laser cutting facility. More pre-cut parts info …
The detailed and accurate plans together with true step-by-step building instructions carry builders, professional and non-professional alike, through the building process simply and easily. And for larger boats particularly, they allow a managed build to be carried out very successfully. Plans are fully dimensioned; no scaling or lofting is required. The plans and instructions are practical, clear and detailed, containing everything required to build and complete the vessel. Where CNC cutting files are included, or available, they can be sent directly to a CNC facility as required. Professional technical support throughout the build, is available by email, via the forum or by regular mail. More plan info …
Click here to look at the free study plans, including the new layout, new skeg arrangements, sample instructions and specification for this design, plus a full list of the plans and instructions that come with the design package.
Home
|
8' chine sailing pram
|
8' classic sailing pram
|
10'3" gaff sailing dinghy
|
10'6" gaff sailing dinghy
|
15' half-deck yawl
15'6" 2-berth yawl
|
17'6" 3-berth yawl
|
18'6" 3-berth yawl
|
19' 2-berth sloop
|
20' 4-berth yawl
23' chine cutter
|
23' classic gaff cutter
|
26' fast sloop
|
30' fast cutter
|
67' cruising cutter
22' cat yawl
|
Extended No. 119
|
Commissioning a New Design
|
Why wood-epoxy?
|
Wood-epoxy #1
|
Wood-epoxy #2
|
Wood-epoxy #3
|
Aluminium Construction
|
Steel Construction
Woodbridge Poster
|
Rockland USA
|
Woodbridge UK
|
Whisstocks 1926-1990
Plan formats
|
Support
|
How to order
|
Study plans
|
Build plans
|
Designer
|
Kits
|
Laminating
|
Company
|
Privacy
|
Contact
Site designed, programmed and hosted by Debenriver Ltd