Design 119
17'6" 3-Berth Yawl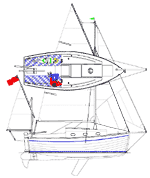 Plans Download:
Plans on CD:
Plans on Paper:
$45.00
$50.00
$200.00
Specification
LOA exc. bowsprit
5.354 m
17.57 ft
LWL
4.988 m
16.36 ft
Beam
2.074 m
6.80 ft
Draught, board up
0.400 m
1.31 ft
Draught, board down
1.200 m
3.94 ft
Displacement on dwl
0.739 t
0.724 tons
Ballast
0.217 t
0.213 tons
Main area
10.019 sq m
107.84 sq ft
Mizzen area
2.334 sq m
25.12 sq ft
Jib area
4.010 sq m
43.16 sq ft
Staysail area
3.365 sq m
36.22 sq ft
Headroom
1.370 m
54 ins
Outboard (in well)
3-4.5 kw
4-6 hp
Engine
7.5 max kw
10 max hp
EU Category C - Inshore
Design 119
was the original of our pocket cruiser range. The design brief asked for:
a small, affordable classic gaff-rig cruising yacht
easy trailing with a family car
simple and quick to launch and rig, and to recover
comfortable cruising accommodation with 3 full length berths
good sitting headroom
provision for a marine toilet
usuable galley with sink and stove
full-size self-draining cockpit, with decent lockers
reliable performance under power
fun sailing in light airs, yet able to cope with heavier weather
modern wood-epoxy construction
suitable for professional or amateur building
To our delight, the design was an immediate success and the boat itself performed beyond our expectations, both under sail and under power. A designer puts a lot of himself or herself into a design so it is always a pretty good feeling when the result is well received.
Sea trials are always a mix of excitement and apprenhension for both the builder and the designer – let alone the owner – and with the first boat of a new design there is always just that extra degree of worry for the designer. Over the years, I have been either the designer or the builder (and occasionally both!) on upwards of 70 sea trials of new boats, mostly custom, ranging from quite small up to about 100' and the frisson of the moment never dulls.
So it was with just a little trepidation that I helped launch and rig the first of these boats on a calm, misty morning on the River Orwell, near Ipswich, England. We stepped the mast and set up the rigging with the boat on her trailer and then backed her into the water: she slid gently off the trailer, bobbed her bow a couple of times and settled into her natural element. The first hurdle was over – she floated where she should and trimmed nicely! View photos of this boat.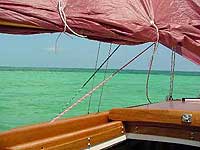 Under sail she gave real big-boat performance and we constantly had to remind ourselves that she is, in reality, quite a small boat. Lively and fun to sail in light airs, she tuckers down in heavier weather. She handled perfectly under power, with a nice turn of speed, and she steered well both ahead and going astern. The outboard in its well in the cockpit was unobtrusive, convenient and reliable. Because the propeller is buried deep behind the keel, we could also motor-sail very successfully even in quite rough conditions. Image (left) is of No. 119/09.
Since that time (1996) this design has become justifiably popular and has been built in the UK, USA, Canada, Australia, Europe, and Asia. "This is the eleventh boat that I've built and your plans and instructions are the best I've seen...." Bob Trygg, Minnesota USA – a builder of Design 119, No. 9, the first to be built with a cold-moulded skin. View more photos of this boat.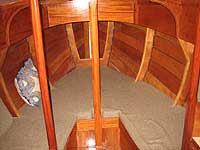 Owners are always surprised at the real spaciousness of this boat. Accommodation is for three, with full length comfortable berths, although with a tent over the boom there is a camper accommodation for two in the full-size cockpit. Image (right) is 119/01. After the first few boats, we changed from ply frames to laminated frames as this gives a more flexible interior layout. We also modified the mast frame so that no mast post is required, which meant that the two forward berths could easily be turned into a double berth with an infill piece. The galley features a sink unit with stowage beneath and a cook stove unit, again with stowage beneath. There is a boxed-over WC between the berths to port. With the original design, we also drew proposal plans for a 3-berth accommodation with a separate toilet compartment, but, somewaht to our surprise these have not been asked for. And perhaps Design No. 146, at 18'6" fills this need rather better.
The detailed and accurate plans together with true step-by-step building instructions carry builders, professional and non-professional alike, through the building process simply and easily. And for larger boats particularly, they allow a managed build to be carried out very successfully. Plans are fully dimensioned; no scaling or lofting is required. The plans and instructions are practical, clear and detailed, containing everything required to build and complete the vessel. Where CNC cutting files are included, or available, they can be sent directly to a CNC facility as required. Professional technical support throughout the build, is available by email, via the forum or by regular mail. More plan info …
Click here to look at the free study plans, sample instructions and specification for this design, plus a full list of the plans and instructions that come with the design package.
Home
|
8' chine sailing pram
|
8' classic sailing pram
|
10'3" gaff sailing dinghy
|
10'6" gaff sailing dinghy
|
15' half-deck yawl
15'6" 2-berth yawl
|
17'6" 3-berth yawl
|
18'6" 3-berth yawl
|
19' 2-berth sloop
|
20' 4-berth yawl
23' chine cutter
|
23' classic gaff cutter
|
26' fast sloop
|
30' fast cutter
|
67' cruising cutter
22' cat yawl
|
Extended No. 119
|
Commissioning a New Design
|
Why wood-epoxy?
|
Wood-epoxy #1
|
Wood-epoxy #2
|
Wood-epoxy #3
|
Aluminium Construction
|
Steel Construction
Woodbridge Poster
|
Rockland USA
|
Woodbridge UK
|
Whisstocks 1926-1990
Plan formats
|
Support
|
How to order
|
Study plans
|
Build plans
|
Designer
|
Kits
|
Laminating
|
Company
|
Privacy
|
Contact
Site designed, programmed and hosted by Debenriver Ltd