Design 77
15'6" 2-Berth Yawl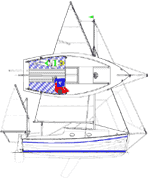 Plans Download:
Plans on CD:
Plans on Paper:
$40.00
$45.00
$175.00
Specification
LOA exc. bowsprit
4.750 m
15.58 ft
LWL
4.495 m
14.75 ft
Beam
2.000 m
6.56 ft
Headroom
1.185 m
47 ins
Draught, board up
0.400 m
1.33 ft
Draught, board down
1.200 m
3.94 ft
Displacement on dwl
0.600 t
0.59 tons
Ballast
0.173 t
0.17 tons
Main area
8.337 sq m
89.74 sq ft
Mizzen area
1.380sq m
14.85 sq ft
Jib area
2.600 sq m
27.99 sq ft
Staysail area
3.338 sq m
35.87 sq ft
Outboard
1.5-3 kw
2-4 hp
EU Category C - Inshore
The baby
of our pocket cruiser range, Design 077 is a remarkably robust and sea-kindly small cruising sail boat. Shown here with a gaff yawl rig, we have recently added plans for a
gunter rig cutter
(PDF drawing opens in a new window), which suits her very well.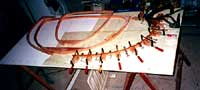 She is very straightforward to build on five laminated ring frames and a laminated backbone. Ring frames take a little longer to produce at the start, but the reward is a much faster and more accurate completion overall. Those shown above (click to enlarge) are from Design 119, but the frames for this design are very similar.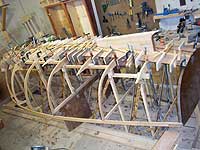 Ring frames have a big advantage when it comes to completing the deck and superstructure – often in fact a more difficult task than building the hull – making it a very much simpler job altogether and a great time-saver.
Here is a No. 077 set up on the building jig (click to enlarge and go to photo slide-show). All the frames, floors and the transom are set up very nicely in the building jig. The backbone and stem have been laminated up and shaped, and the keel and aft deadwood are all in place, as is the shelf around the frames at the deck edge. The builder has fitted the first two lapstrake planks. Note the use of simple ply U-clamps and wedges to hold the lapstrake plank edges down.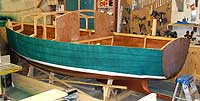 The hull skin can be epoxy ply lapstrake as shown here (click to enlarge and go to photo slide-show) or cold-moulded wood-epoxy. Instructions are included for both types. Construction throughout uses WEST™ system boatbuilding epoxies for bonding, and epoxy coating and encapsulation, resulting in a strong, lightweight structure with minimal maintenance.
Accommodation is for two, with full length comfortable berths and a simple galley. The cockpit is roomy, well-protected and comfortable; and long enough for two additional full-length berths with a tent over the boom if wished, giving a camping accommodation for four in total.
The current interior design doesn't include a toilet and it is not easy to find space for such an item on a small boat like this. However, it is possible to replace the galley sink unit with a marine toilet and box over it, and then provide a washbowl on the box top – or a hinged sink above it.
The boat is designed for an outboard engine semi-permanently mounted in a well in the cockpit. This gives convenient reliable performance under power and is not easily flooded even in heavy following seas – and the vessel's balance and steering is not compromised in any way.
The boat is really easy to trail, launch and recover and the rig is quickly set up. She has a fairly large sail area for her displacement, which gives excellent light weather performance. In heavier weather she goes to windward well under mizzen and staysail, rather than a deeply reefed main. The boat has a bolt-on lead ballast keel for stability at sea and a centreboard to give good up-wind performance. Additional inside ballast can be added for more challenging conditions. See Design Data for more information.
The detailed and accurate plans together with true step-by-step building instructions carry builders, professional and non-professional alike, through the building process simply and easily. And for larger boats particularly, they allow a managed build to be carried out very successfully. Plans are fully dimensioned; no scaling or lofting is required. The plans and instructions are practical, clear and detailed, containing everything required to build and complete the vessel. Where CNC cutting files are included, or available, they can be sent directly to a CNC facility as required. Professional technical support throughout the build, is available by email, via the forum or by regular mail. More plan info …
Click here to look at the free study plans, sample instructions and specification for this design, plus a full list of the plans and instructions that come with the design package.
Home
|
8' chine sailing pram
|
8' classic sailing pram
|
10'3" gaff sailing dinghy
|
10'6" gaff sailing dinghy
|
15' half-deck yawl
15'6" 2-berth yawl
|
17'6" 3-berth yawl
|
18'6" 3-berth yawl
|
19' 2-berth sloop
|
20' 4-berth yawl
23' chine cutter
|
23' classic gaff cutter
|
26' fast sloop
|
30' fast cutter
|
67' cruising cutter
22' cat yawl
|
Extended No. 119
|
Commissioning a New Design
|
Why wood-epoxy?
|
Wood-epoxy #1
|
Wood-epoxy #2
|
Wood-epoxy #3
|
Aluminium Construction
|
Steel Construction
Woodbridge Poster
|
Rockland USA
|
Woodbridge UK
|
Whisstocks 1926-1990
Plan formats
|
Support
|
How to order
|
Study plans
|
Build plans
|
Designer
|
Kits
|
Laminating
|
Company
|
Privacy
|
Contact
Site designed, programmed and hosted by Debenriver Ltd