Specification
LOA
3.150 m
10.33 ft
LWL
2.975 m
9.76 ft
Beam
1.410 m
4.63 ft
Main area
5.155 sq m
55.49 sq ft
Jib area
1.555 sq m
16.74 sq ft
Weight exc. outboard
110 kg
242 lbs
Outboard
1.5-2.25 kw
2-3 hp
Capacity 4 persons
285 kg
630 lbs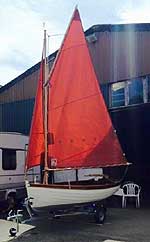 Design 73
is a really versatile sailing and rowing dinghy and is one of the most popular of our designs. To the best of our knowledge, nearly 40 of these boats have been built to date.
The ply epoxy lapstrake construction is very straightforward to build and produces a strong, stable and lightweight boat. The hull is built on four simple temporary moulds, set up on a jig base. When the hull skin is completed, these temporary moulds are removed, giving a clean interior.
Forward there is a bulkhead in way of the mast, with a small foredeck, through which the mast steps. As well as adding structural rigidity to the hull, this provides a watertight compartment forward.
The side-benches aft also provide two watertight compartments, which, together with the forward compartment, give the boat the necessary built-in permanent buoyancy to stay well afloat if flooded or capsized. They also contribute to the structural stiffness of the hull.
The boat is built using the most modern of materials – WEST™ system boat-building epoxies. The construction gives high structural strength and rigidity, with light weight. The boat can be clear finished (varnished) or she can be painted. In either case you will have a long-lasting low-maintenance structure, so you'll spend you time having fun with the boat rather than maintaining it.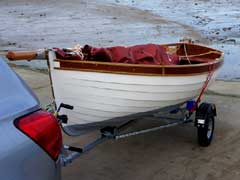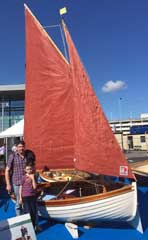 Other build methods that have been used for this design include traditional clinker (pictured here – click images to enlarge), cold-moulded construction on laminated frames, and cold-moulded frameless construction on a plug. Plans for cold-moulded on laminated frames and traditional clinker construction are included in the standard design package. Frameless cold-moulded is not available as downloads at the moment, but can be made available upon request. Read a very nice article in Watercraft magazine about the clinker-built "Anemone" (opens as a new PDF window).
The detailed and accurate plans together with true step-by-step building instructions carry builders, professional and non-professional alike, through the building process simply and easily. And for larger boats particularly, they allow a managed build to be carried out very successfully. Plans are fully dimensioned; no scaling or lofting is required. The plans and instructions are practical, clear and detailed, containing everything required to build and complete the vessel. Where CNC cutting files are included, or available, they can be sent directly to a CNC facility as required. Professional technical support throughout the build, is available by email, via the forum or by regular mail. More plan info …
A couple of comments by 073 builders:
"The dinghy exceeded all my expectations.... and a real bonus to find her such an excellent rowboat ..." – Stephen Dobson.
"... she sails like a dream and is well seaworthy (launch day was blustery and lumpy at sea!)." – Peter Jady.
Click here to look at the free study plans, sample instructions and specification for this design, plus a full list of the plans and instructions that come with the design package.
Home
|
8' chine sailing pram
|
8' classic sailing pram
|
10'3" gaff sailing dinghy
|
10'6" gaff sailing dinghy
|
15' half-deck yawl
15'6" 2-berth yawl
|
17'6" 3-berth yawl
|
18'6" 3-berth yawl
|
19' 2-berth sloop
|
20' 4-berth yawl
23' chine cutter
|
23' classic gaff cutter
|
26' fast sloop
|
30' fast cutter
|
67' cruising cutter
22' cat yawl
|
Extended No. 119
|
Commissioning a New Design
|
Why wood-epoxy?
|
Wood-epoxy #1
|
Wood-epoxy #2
|
Wood-epoxy #3
|
Aluminium Construction
|
Steel Construction
Woodbridge Poster
|
Rockland USA
|
Woodbridge UK
|
Whisstocks 1926-1990
Plan formats
|
Support
|
How to order
|
Study plans
|
Build plans
|
Designer
|
Kits
|
Laminating
|
Company
|
Privacy
|
Contact
Site designed, programmed and hosted by Debenriver Ltd